Aussie Sires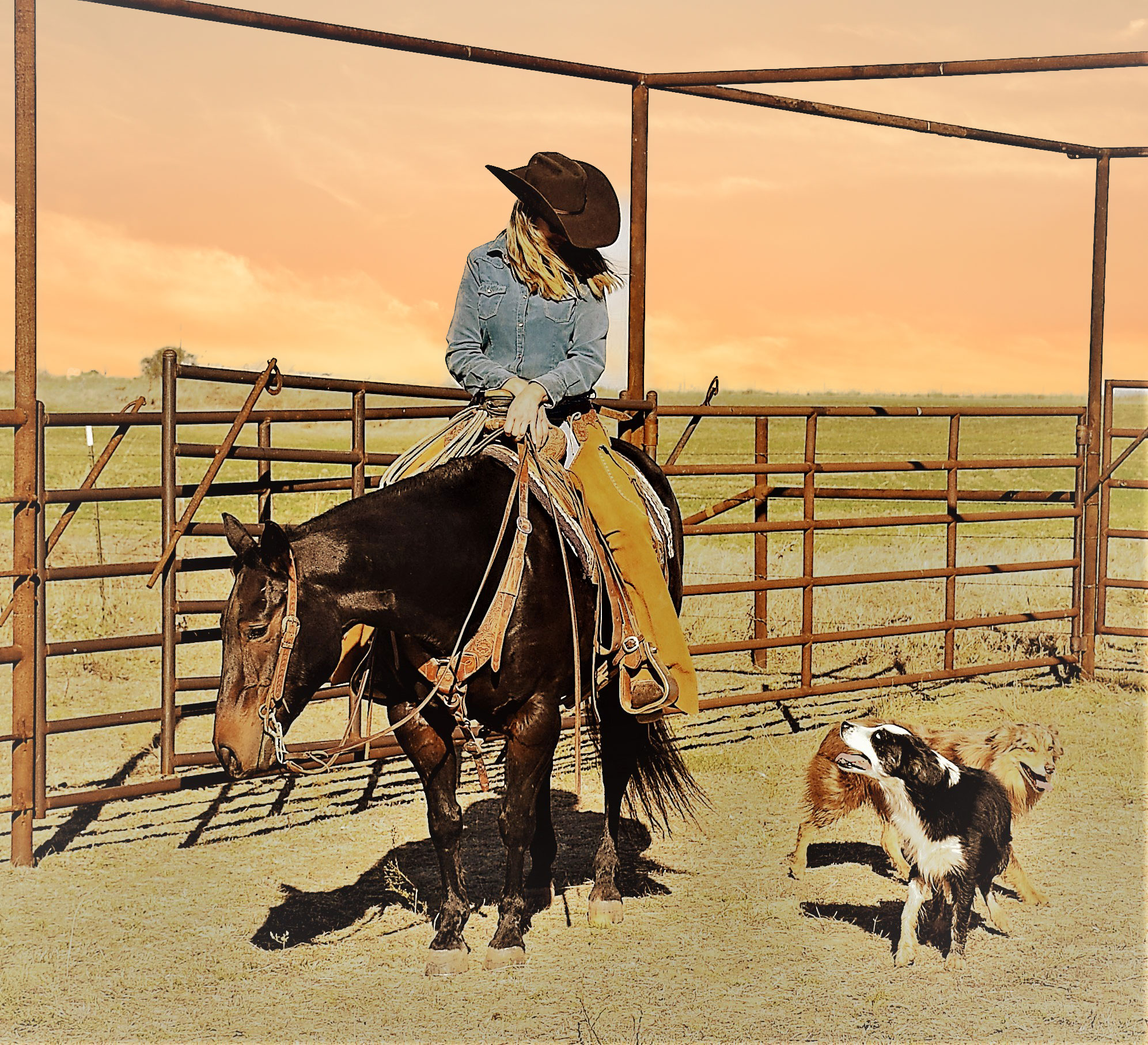 Boyd Ranch Hangin Cowpuncher
Dam: Boyd Ranch Hangin Tapadero
AKC/ASCA Registered
Eyes clear-HSF4/HC, CEA, CMR1, Cone Deg, PRA-prcd, MDR1 N/N, DM N/N, Hips OFA Good!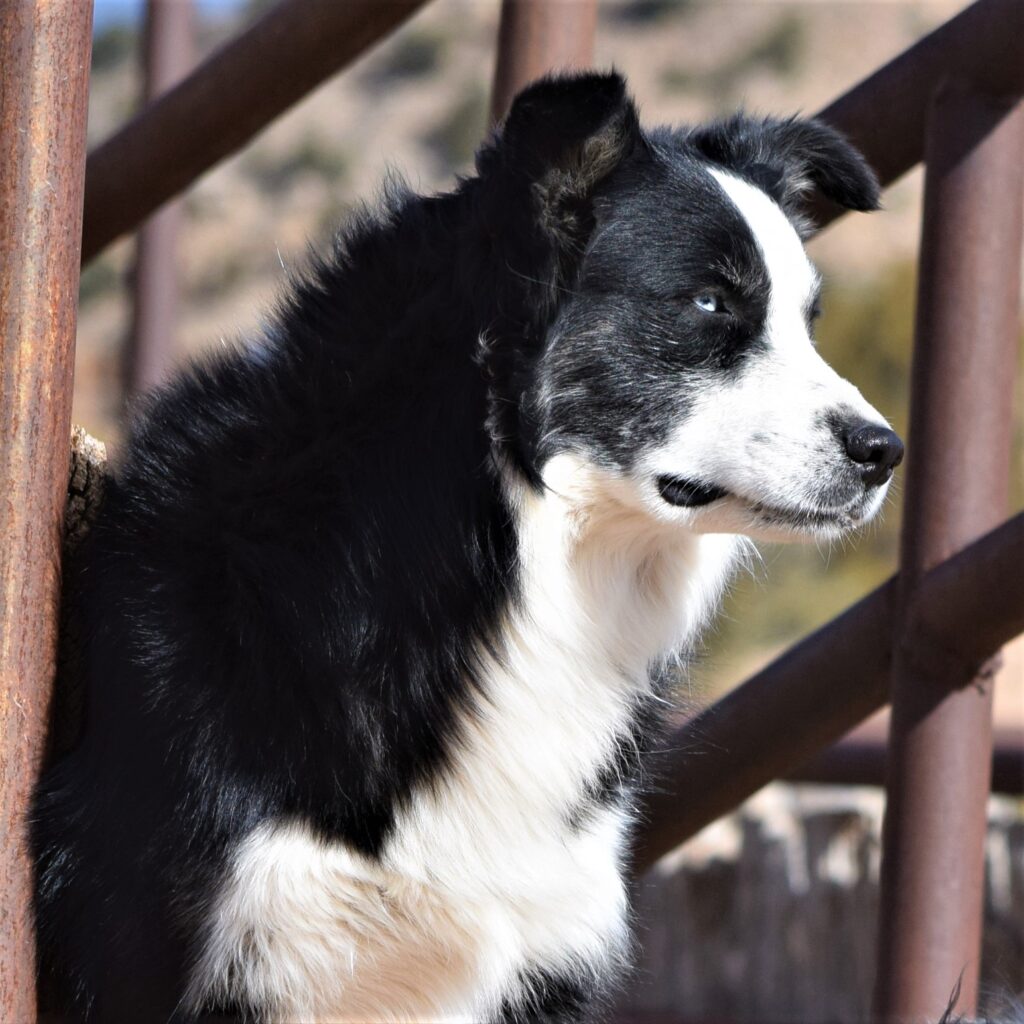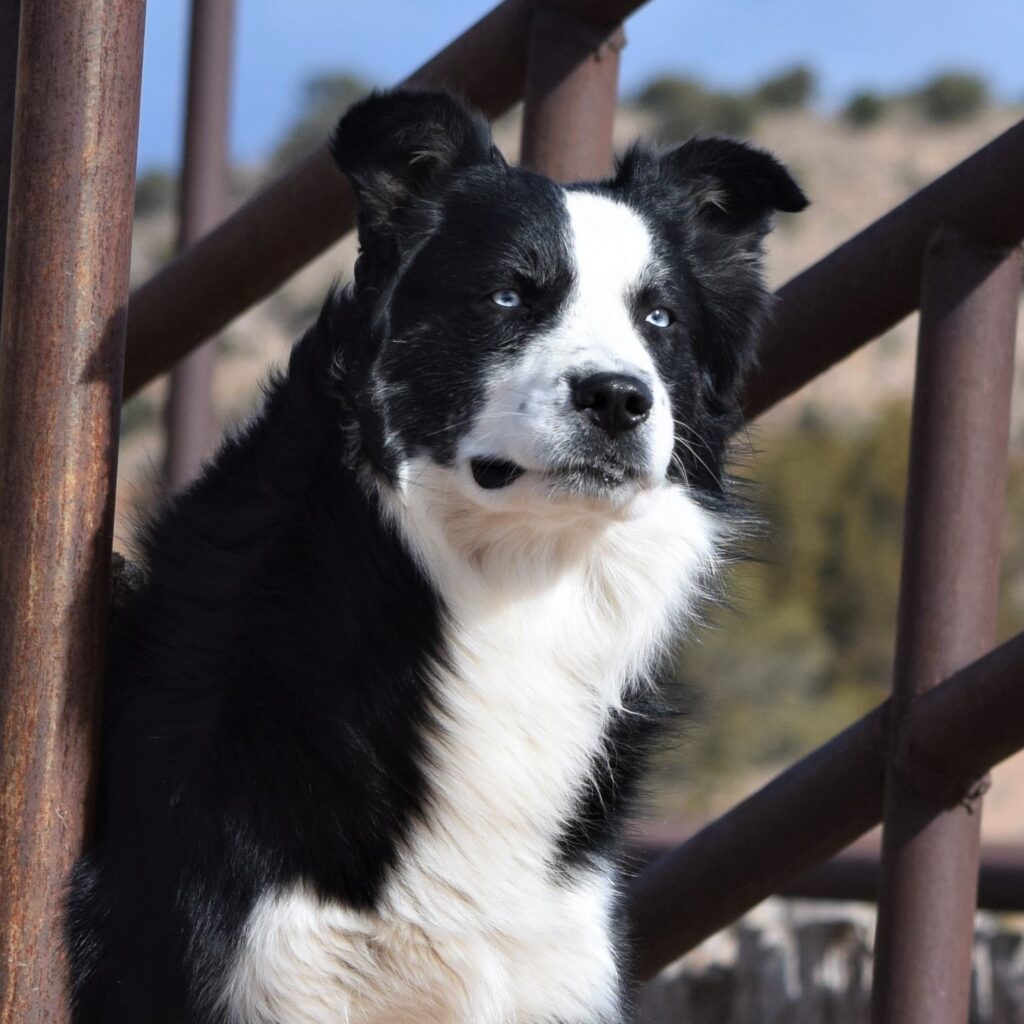 Cowpuncher was raised here at Boyd Ranch, he is by our sire Rising Sun Adam Bomb "Bronc" and out of our dam Boyd Ranch Hangin Tapadero. He is a very handsome Aussie, with two brilliant blue eyes, and perfect structure.
We started him on some gentle calves when he was about 6 months old and were thrilled with his natural ability on cattle. He has continued to progress and is a super cowdog, with a lot of natural ability, very brave, will think on his own, but is biddable too. He loves to hit heads, keep his cattle in control, and has a great sense of group.
Cowpuncher has a sweet but guardian type personality and is very loyal to our family. I love that he watches over us and our property, and that he won't welcome strangers, until they've earned his trust. He loves all the puppies and likes to play and to be with them, which is very rare for an adult male dog!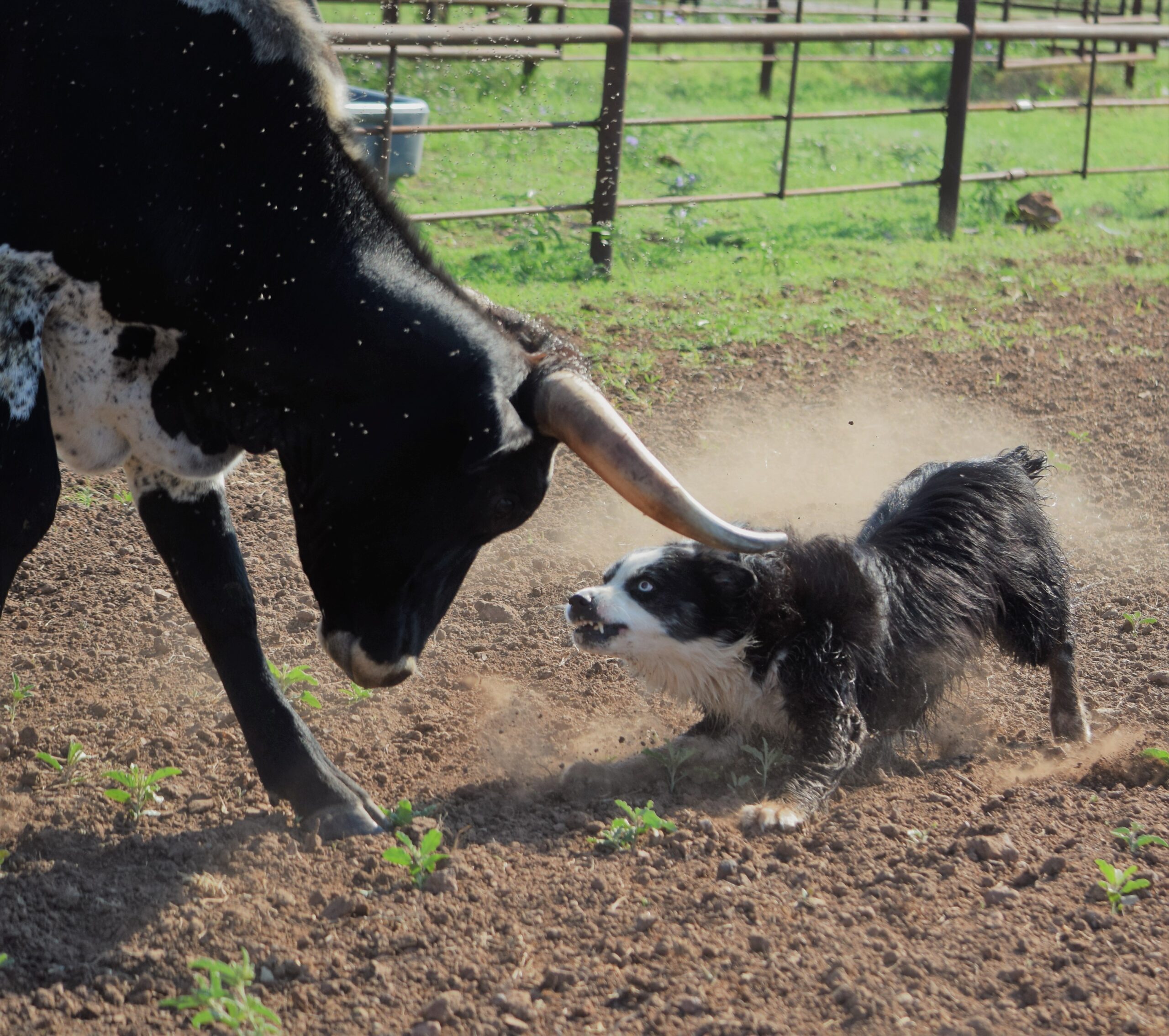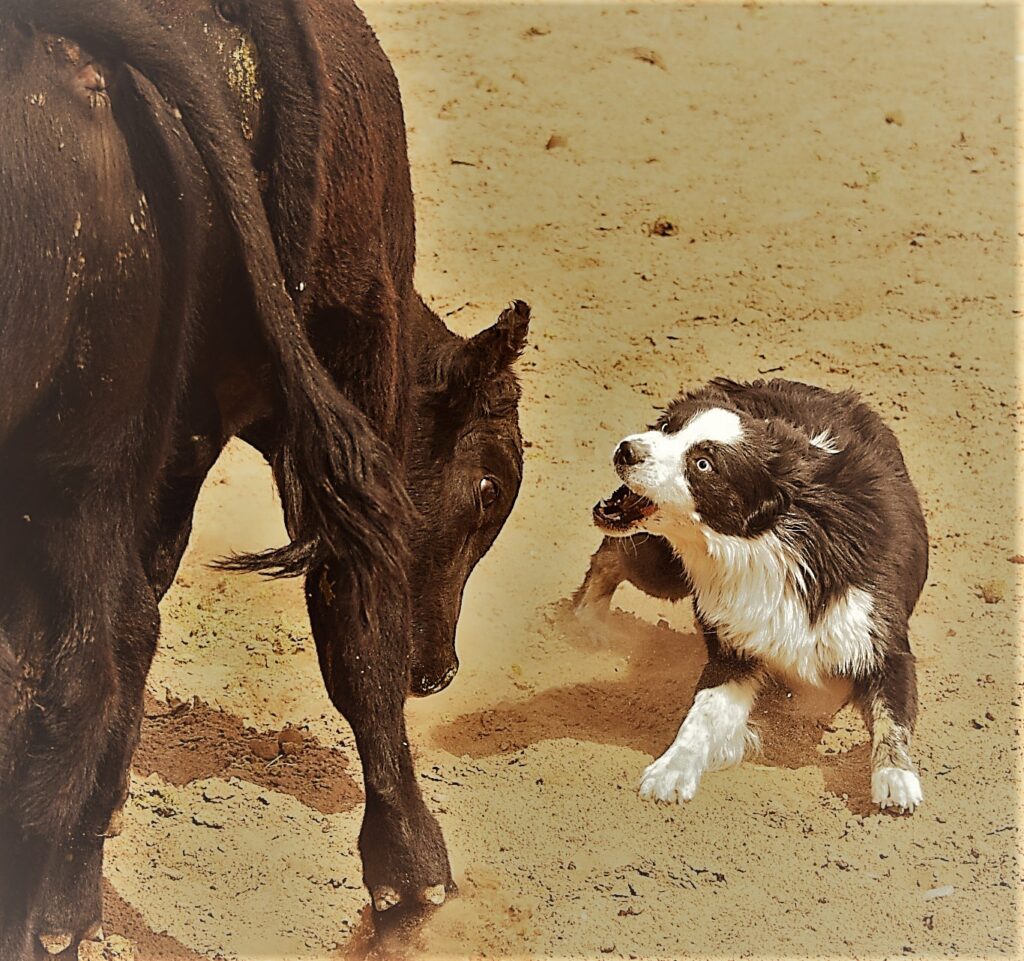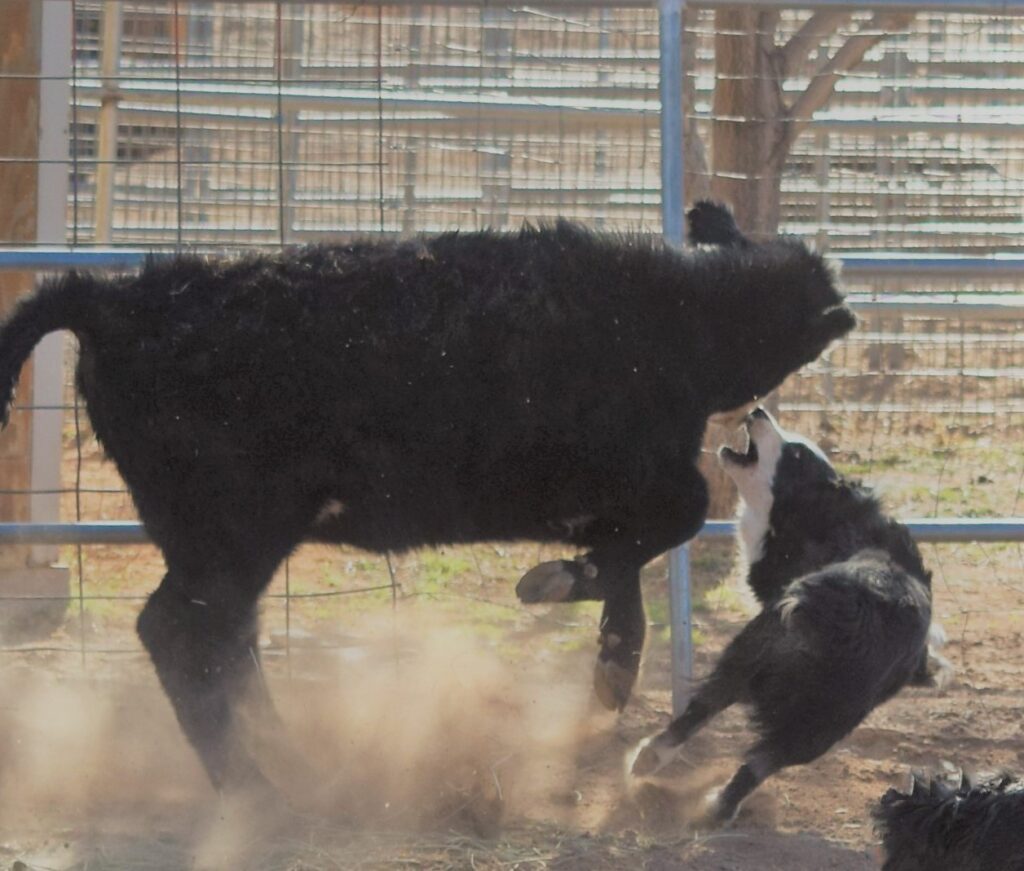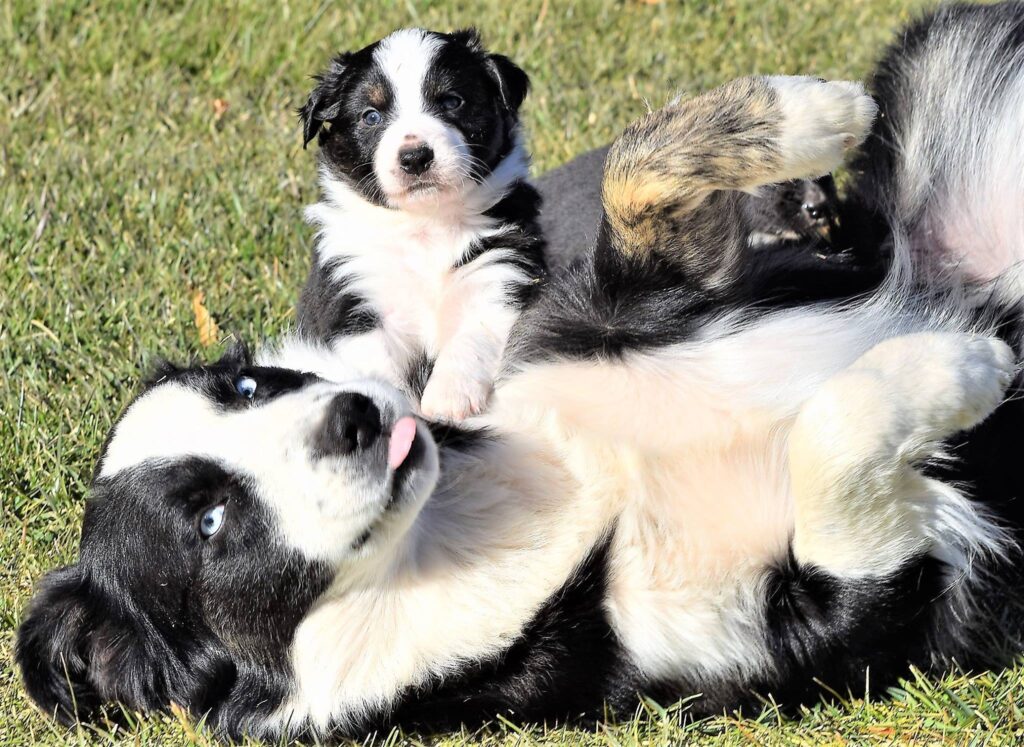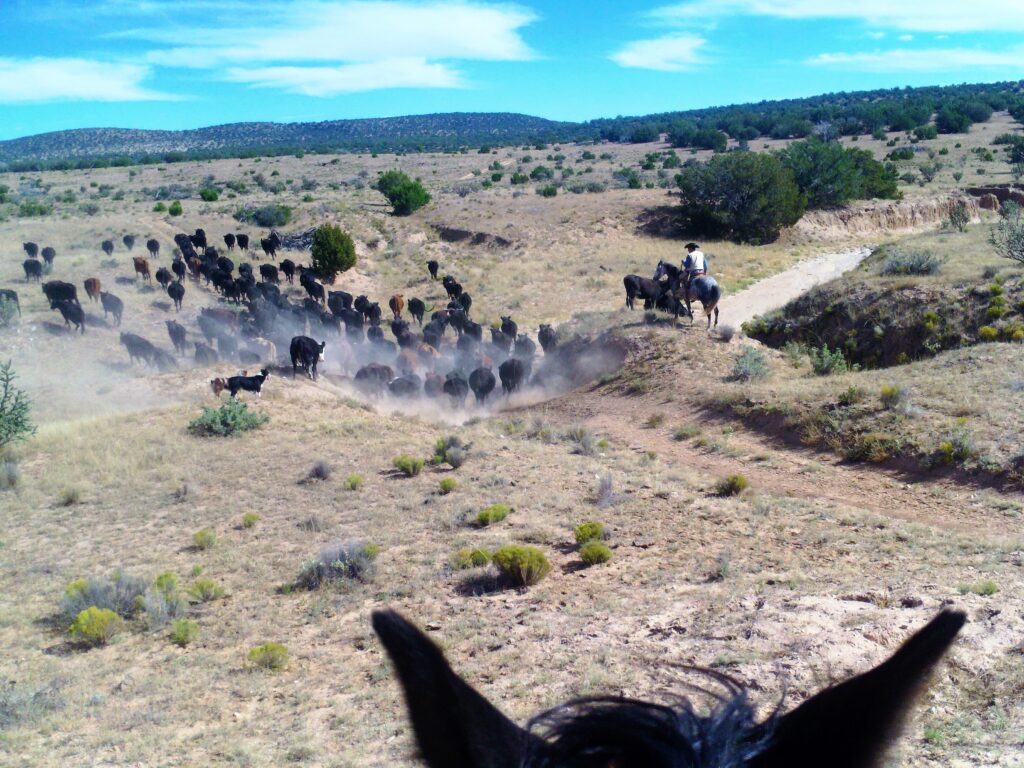 —————————————————————————————————–
Rider is a beautiful Red Merle male with excellent structure and conformation! He has outstanding breeding and we're excited to cross him on some of our Boyd Ranch females. Rider is fun and outgoing, and has a great personality. He likes people, is fearless, and is very loyal to us.
We started Rider on some calves when he was about 6 months old in the arena and he showed a lot of natural instinct. He naturally would go to the heads to take control and also would drive cattle nicely. When he was close to a year old we started using him on some large drives out on the ranch and he really turned on! He loves gathering and driving cattle and has enough drive to put in some long hard days. I love that he can think on his own but will also take direction when needed.
When Rider was only 8 months old I had him and 3 other dogs, with me to check cattle and waters. I had left him and the other dogs on the UTV and had walked into a pasture between some cattle to check their salt and water. Two cows starting fighting and almost ran me over. All the dogs jumped out of the UTV and ran to protect me but Rider got there first! He stood his ground next to me, between me and the fighting cows, and at that moment I knew he was a perfect Boyd Ranch Dog.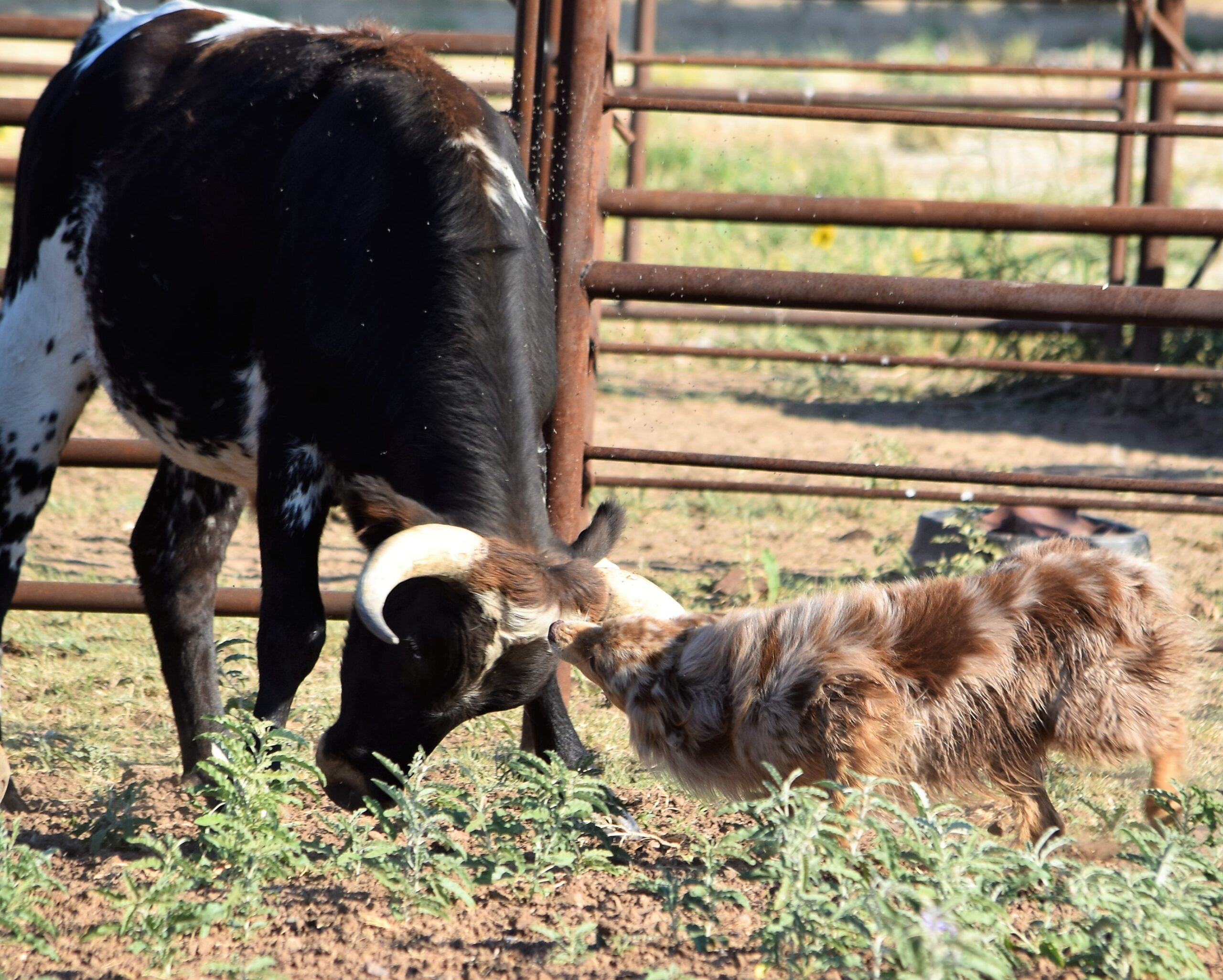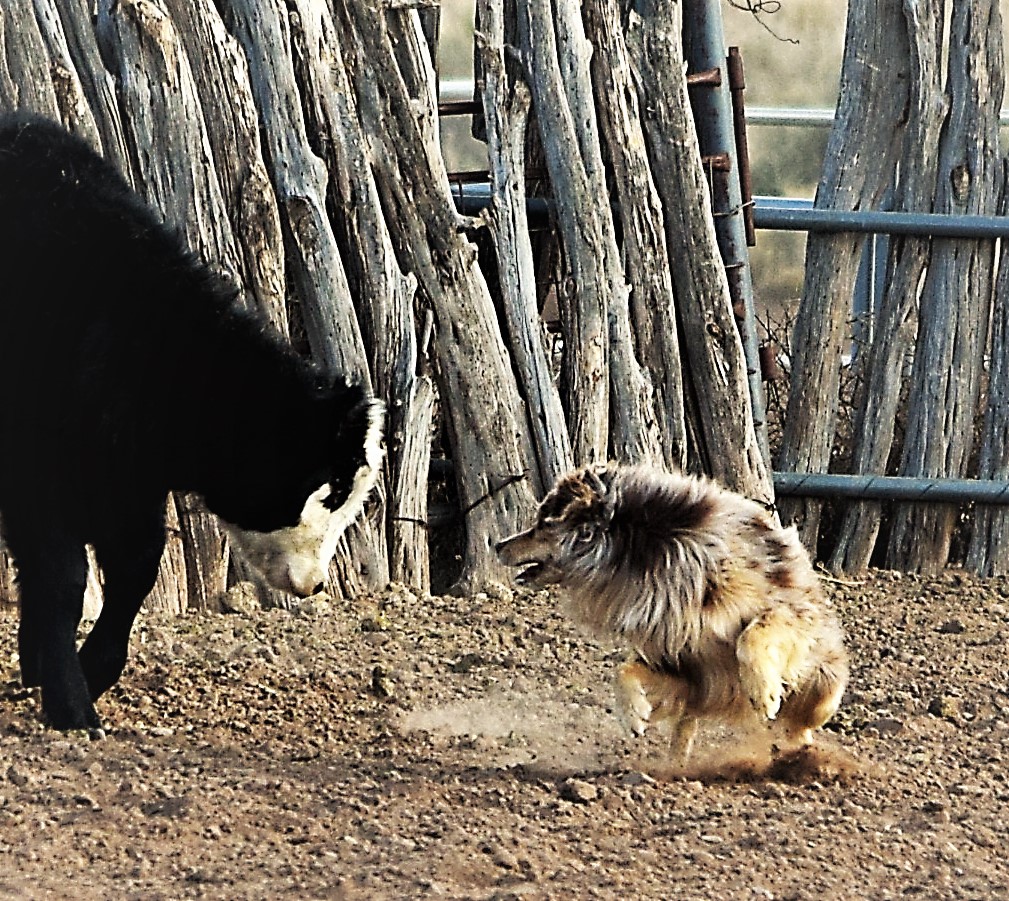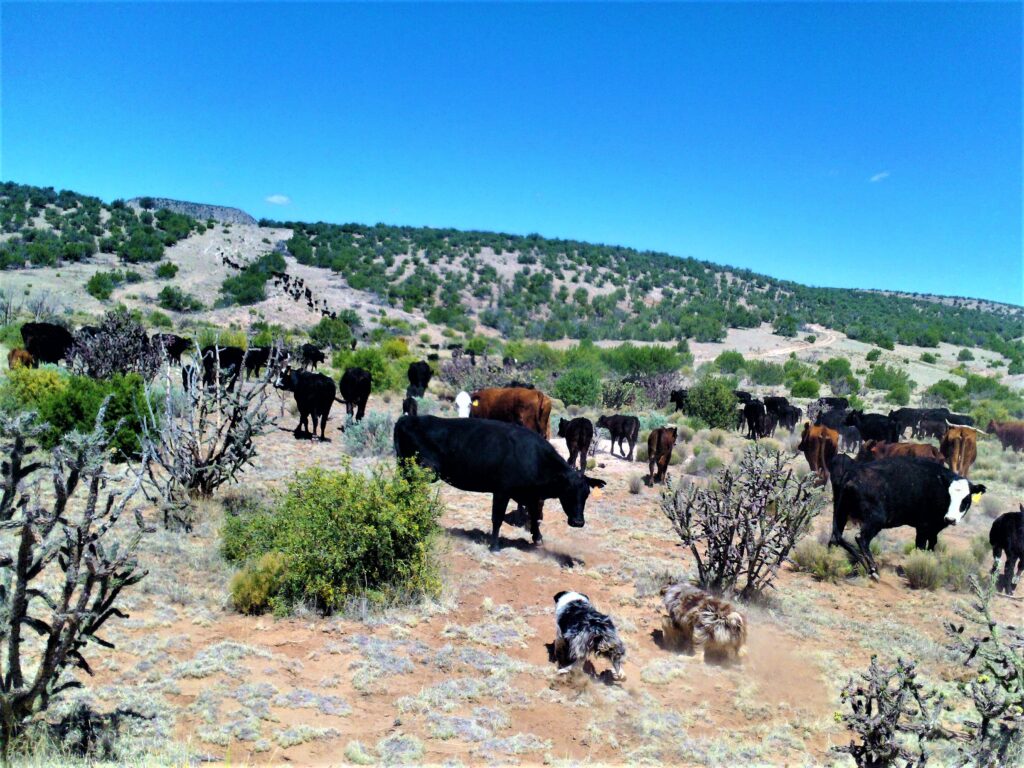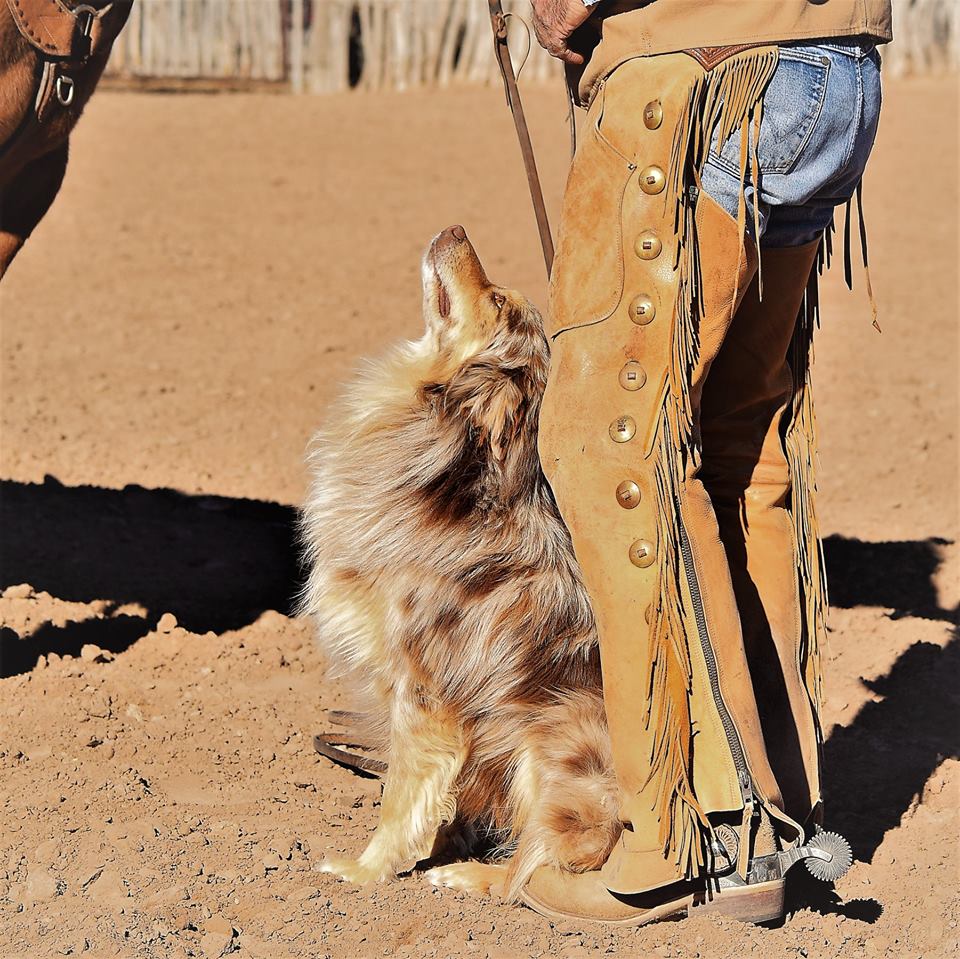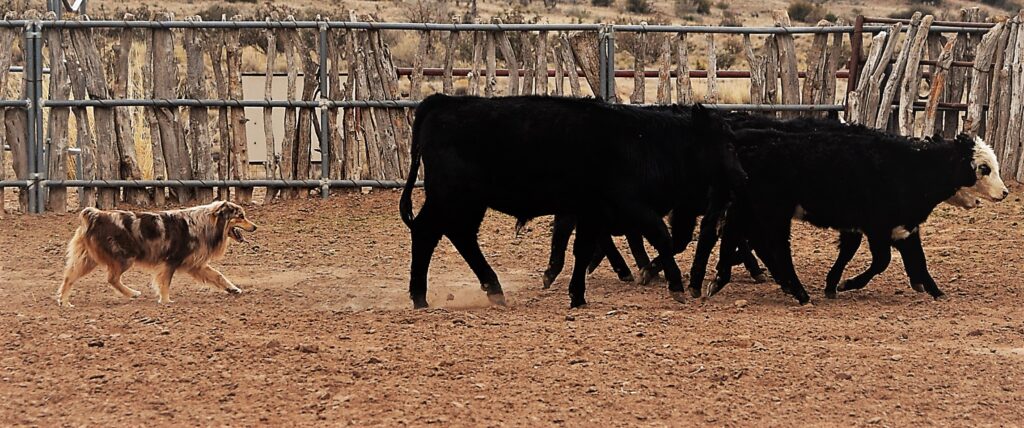 _______________
WTCH

Boyd Ranch Rising Cowpuncher

PATDcs

OFTDcsdm HTAD IIIs,g, HRD IIIs,g
Sire: Boyd Ranch Hangin Cowpuncher
Dam: Cut N loose Bosalita of Boyd Ranch (Sire:

WTCH

W Lazy J Yippie Ki Yi Yo

RTDcs CD

 Dam:

WTCH

Cut'N Loose Mi-T-Sweet Rosa

AFTDs

)
AKC/ASCA Registered
Eyes clear-HSF4/HC, CEA, CMR1, Cone Deg, PRA-prcd, MDR1 N/N, DM N/N, Hips OFA Good!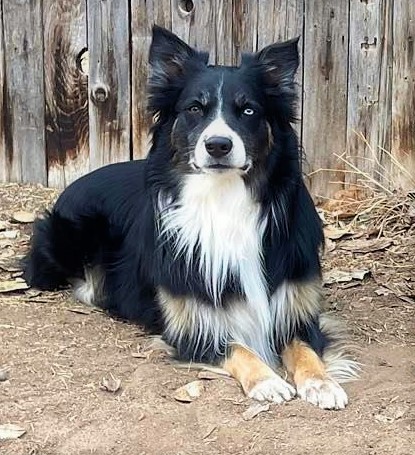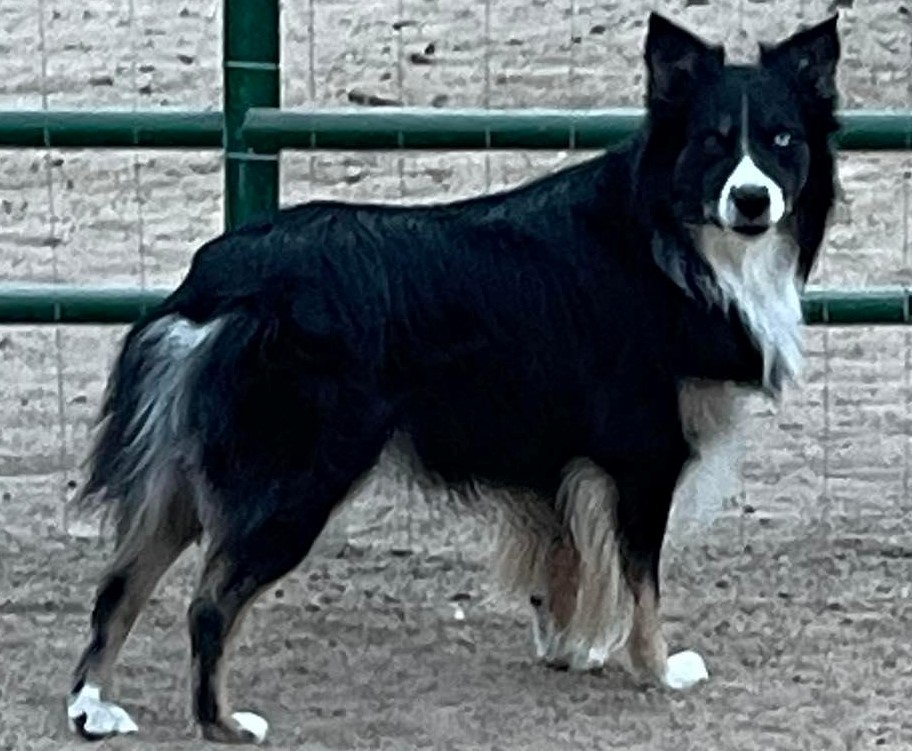 Punchy was born here at Boyd Ranch and sold as an 8 week old pup to Kathleen Wright. His sire is Cowpuncher and dam is Bosalita.
Kathleen bought Punchy as a companion and horseback riding partner but soon realized Punchy wanted to work stock!  Kathleen had never trained a stock dog and sought out some lessons.
At Punchy's instinct test it was quickly known by all that she had a great dog! Kathleen dove head first into the trial world and with the occasional help from a few clinics, lessons, videos and books, she and Punchy became a great team and with Kathleen at the end of the leash made huge accomplishments on their own. At Kathleen and Punchy's first trial in May of 2021 they won the buckle for most promising started (MPS) Aussie and earned the ASCA Started Trial Dog titles in Cattle, Sheep, and Ducks (STDcsd). The next month they competed once more in started and again won the buckle for Most Promising Aussie! Five months later, Kathleen decided to try the open classes and at their first trial competing in open earned Punchy's ASCA Open Trial Dog Cattle, Sheep, and Ducks (OTDcsd) titles. Still wanting more…. at the next trial, less than a month later, she tried the advanced classes and earned his titles in Advanced Cattle and Sheep (ATDcs); only lacking one leg for his Advanced Duck Title. A month later the team competed again and successfully completed the last duck leg and earned his ATDd and his Working Trial Champion (WTCH). All in their first eight months of competing and at only 5 trials!
Punchy has a great disposition and is trustworthy with all stock and children. He will head a running off cow and quietly move ducks. He's a once in a lifetime dog and Kathleen is sure proud he's hers and we're excited to cross some of our females with him!