Horses For Sale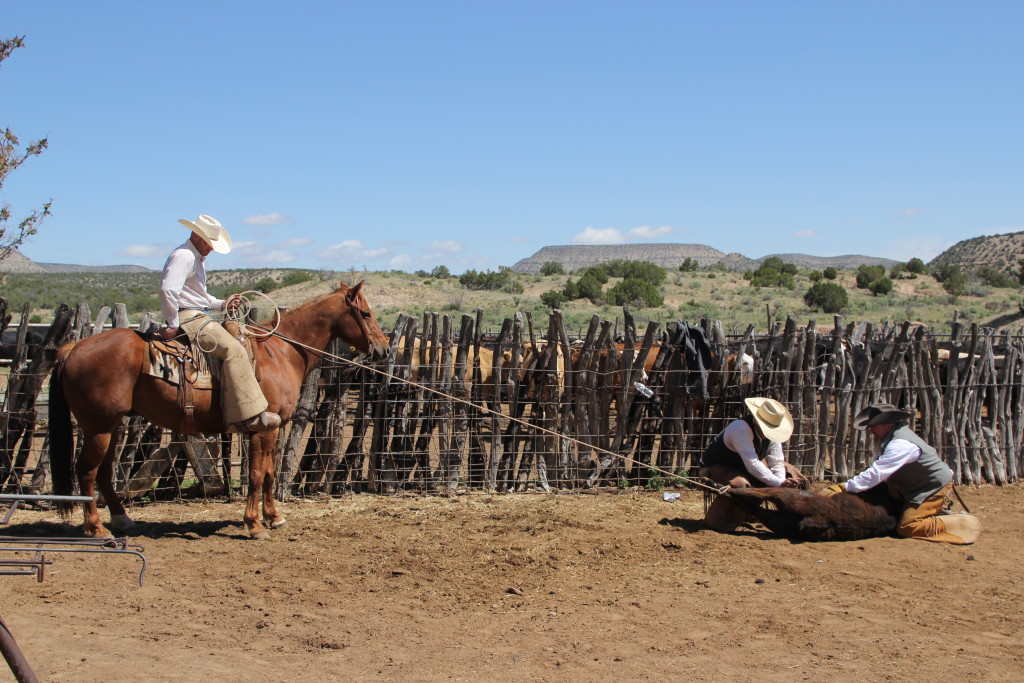 Boyd Ranch is family owned and operated located in Central New Mexico. We are situated on 25,000 acres with various terrain of mountains, rocks, sand, and brush. We are a working cow/calf ranch and moving cattle to change pastures, checking fence, branding, and doctoring we do horseback. We offer the public true Ranch and Cow Horses that have worked for a living and have a lot to offer. They are the horses in our string that we use here daily, for all ranch duties. We have some outstanding individuals for the ranch, arena, or trail.
---
————————-
Available: 2012 AQHA Gray Gelding $18,000.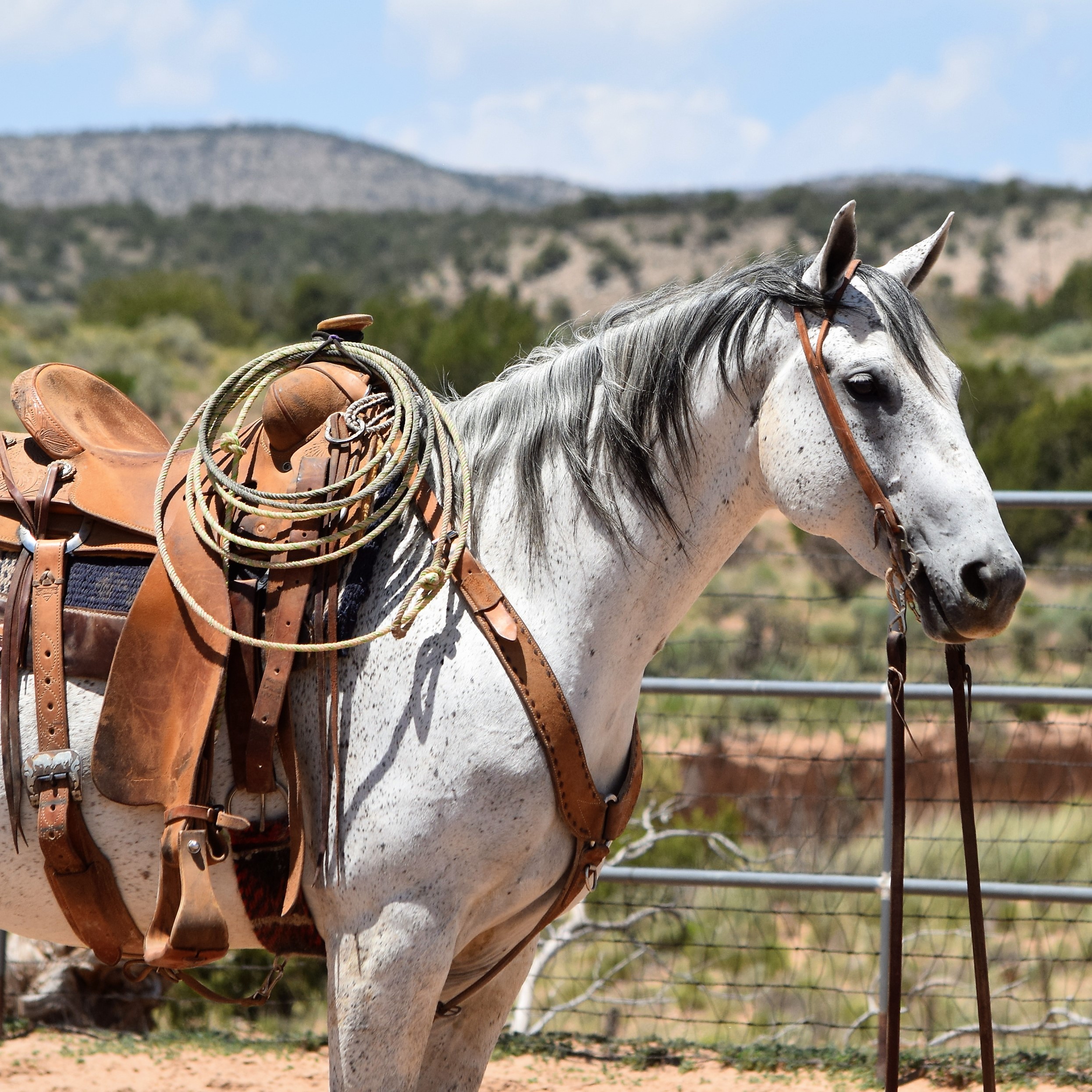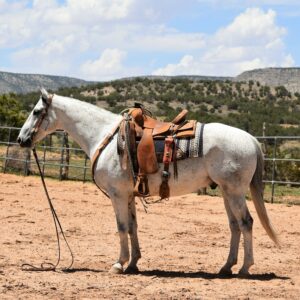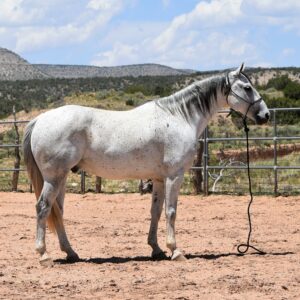 Joe is a 7 year old, 15.2 hand, 1200#, sharp looking, Gray ranch gelding. Bred by Bill Smith of Espuela Cattle Co. in west Texas and carries his brand. AQHA Ranching Heritage eligible and broke and talented enough to go show in any ranch horse show or competition. This is a sharp looking well made gelding with a big soft eye and is very gentle and stays gentle. Joe is a superior ranch gelding that has always had a good cowboy on his back. Excels at all ranch duties, been used in big rough country, tended lots of cattle. He has roped a lot outside and drug a ton of calves to brand. He is very broke in the bridle, and has a lot of feel. A big stopping horse who handles himself very well for a big horse. Joe is a laid back easy going horse that can wake up and run to rope anything you need, handle it like an old pro, and turn around and walk off on a loose rein when you're done. He has a good set of withers that will hold a saddle and anything you latch on to. This is a very nice horse, the ranch owner boss man kind, lot's of skills, looks, and gentle with a great mind.
PEDIGREE

Sire:


JOSEPHS GOLD

BLACK CHICK GOLD

BLACK CHICK 89

MISS EAGLE 95

BECACO MANOR JOE

BLUEWOOD

BECACO LADY 1

Dam:


SPARKYS HOT CHICK

BLACK CHICK GOLD

BLACK CHICK 89

MISS EAGLE 95

SPARKYS HOT CHEX

GRAY PIE SPARKY

HOT CHEX OLENA
—————————————
Available: 2009 AQHA #5195129 Brown Gelding $11,000.





Drifter is a 10 year-old, 15.3 hand, 1250 lb, Brown Ranch gelding. Bred by the AQHA ranching Heritage breeder Hetletved Ranch in North Dakota and Carries their brand. This is a big full made horse, cinches up deep, with a good set of weathers. Can handle anything you rope and could make a head horse or pick up horse right now. He is a gentle good looking gelding and easy to be around with lots of cowboy manners. Been Ranch on and is good at all duties in and out of the pens. Very broke and has a lot of feel and ride for a big horse. Big hipped, cool headed, lots of bone and foot, full mane and tail. He will fit just about anyone and can pack a big guy through the rocks and brush. This is a classy ride with a great disposition.



PEDIGREE

Sire:


LONSUM DRIFT

DRIFTS CHIP

DOUBLE DRIFT

DIAMOND ISLE

LONSUM BADGER 045

LONSUM TIGER

COULD

Dam:


TEXAS HIGH JAX

HIGH POCO JAX

HIGH ROLLING ROANY

JAX PATTI BARS

TEXAS HIGH STEARNS

STEARNS BAR JO JO

ROLLING HIGH JINKS
————————————–
Available: 2014 AQHA #5631875 Red Dun Gelding $9,500.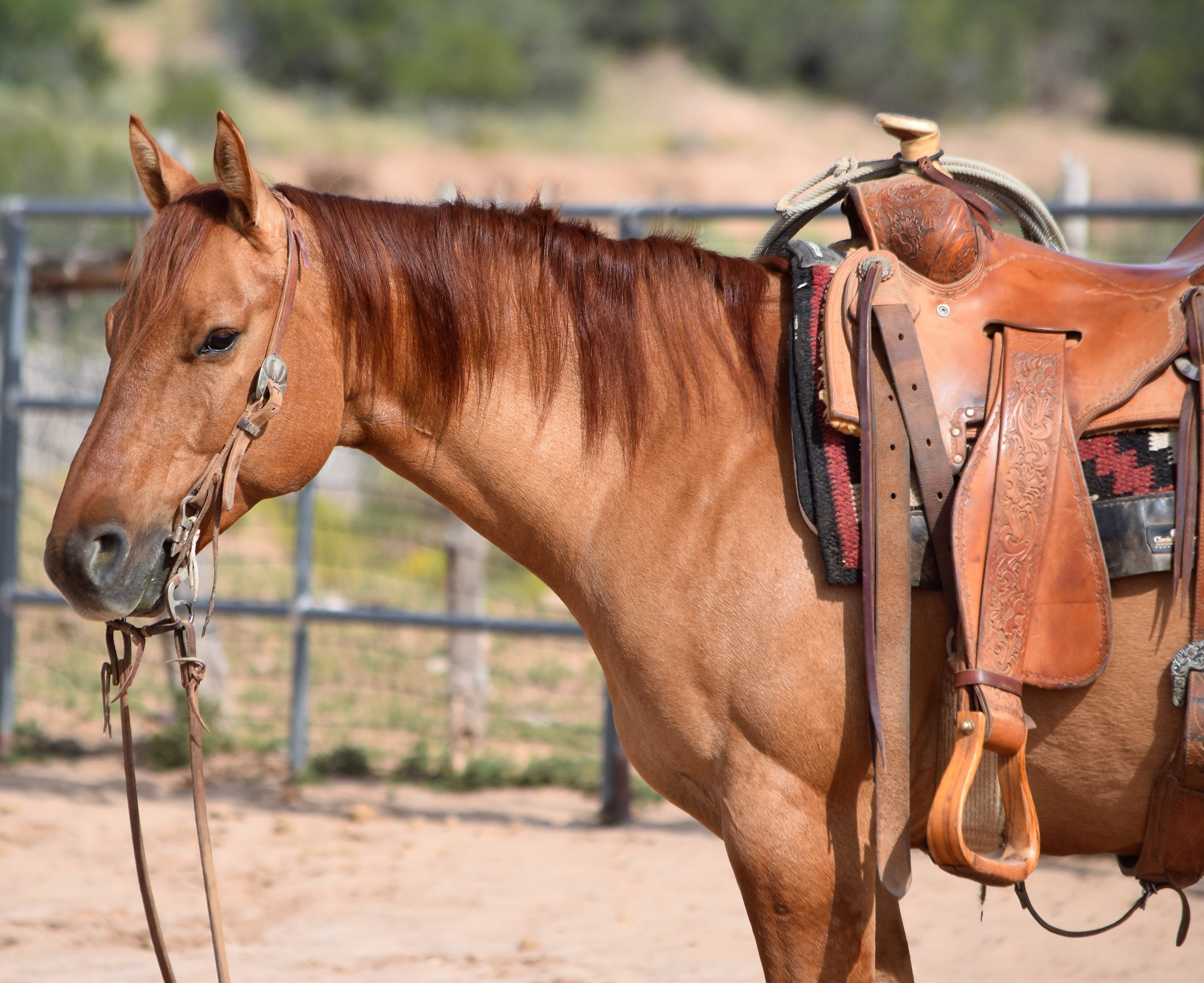 Hollywood is a five-year-old, 14.3 hand, 1000 lb, Red Dun Ranch Gelding. This is a keen headed well made smaller gelding but don't let his size fool you, he can really pull by the horn and handle just about anything you rope. Been Ranched on in tough country and is as good as you can ask for in the rough stuff. Drug Calves, roped outside, and worked the pens. Best of all he is super gentle and stays that way. This is a very nice young gelding that can fit just about anyone. Takes both leads, nice jog trot, and a rocking chair lope. Been used with dogs and can handle lots of them around him.




PEDIGREE

Sire:


HEATED NIGHT

HOLLYWOOD HEAT

HOLLYWOOD DUN IT

RIV O LENA

LEO NIGHT GLO

WAR LEO JR

LES NIGHT GLO

Dam:


ZAN PAR ALICE

ZAN PAR PEPPY

ZAN SILVER PARR

REY DEL TEERO

SPECTACULAR STARLA

SPECTACULAR PEPE

LEOS STAR PRIDE
————————————
Available: 2015 AQHA # 5717369 Red Roan Ranch Gelding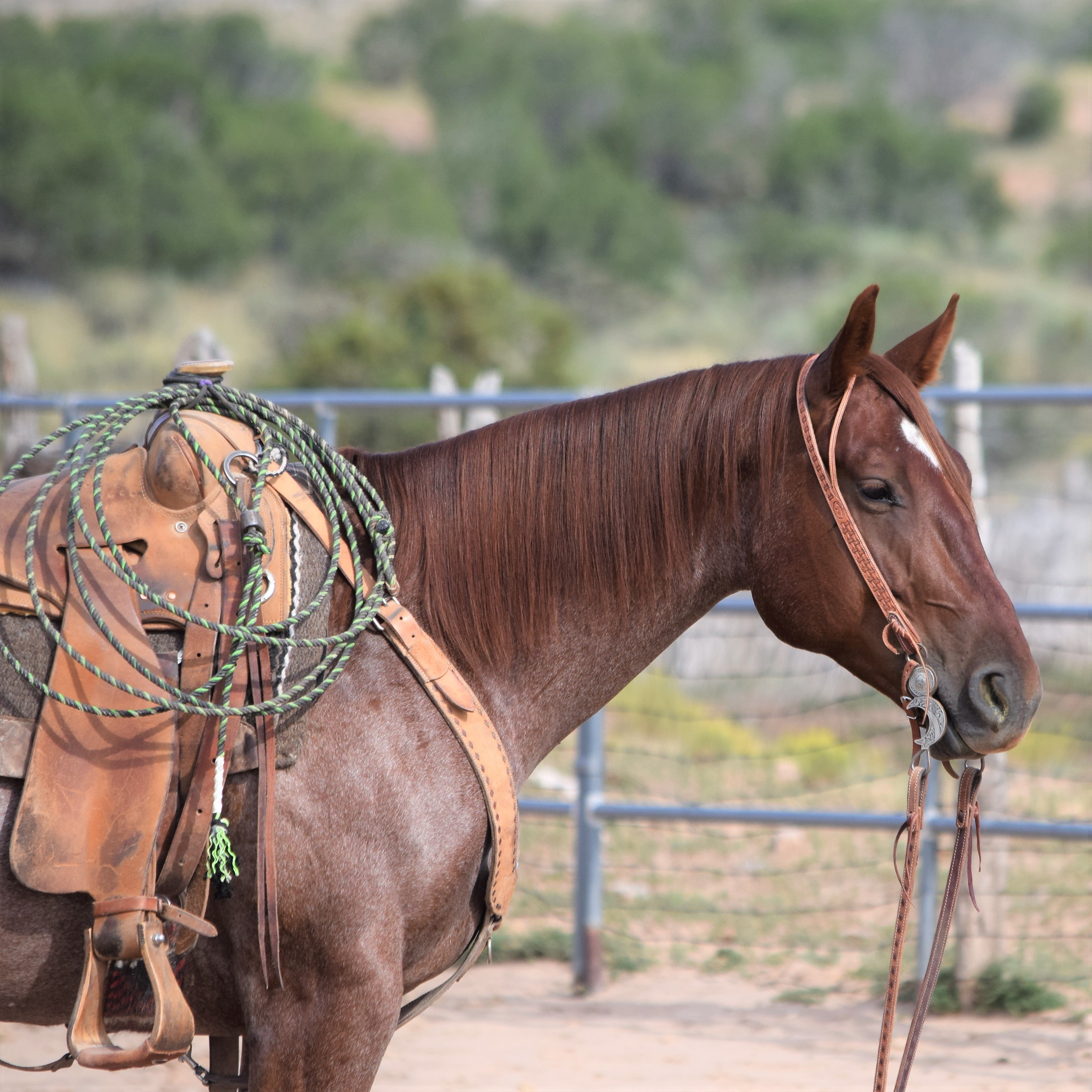 Rojo is a 4 year old, 15 hand, 1100#, Red Roan Ranch gelding. Rojo was bred and came off the AQHA Best Remuda award winning Bogle Ranch, south of us, and carries their brand. He is eligible to be shown in the AQHA Ranching Heritage classes. This is an extremely gentle and good minded gelding. Been ranched on since broke, done everything on the ranch, roped a lot outside and started on the head side in the arena. He has made enough runs to know he could excel in the arena if you wished to go that way. He is very quite, good in the box, and handles cattle well. He is a very sharp looking horse with a deep red color. Very broke, rides low headed, stays between the reins, laid back and easy going. A nice horse to be around and a pleasure to own. Taken care of lots of cattle in big country.



PEDIGREE

Sire:


CEE BOOGER ROJO

CEE BOOGER RED

CEE BAR BADGER 71

CROSS 1 59 BELL 71

MISS HARLA DUDE

BLONDYS DUDE

SOFT TONE

Dam:


FOUR LAKES LADY

DOCEN COLONEL

COLONEL FRECKLES

DOCS BAR LADY

SIX TROUBLE

MINOR TROUBLE 2

TUSIX
——————————————–
Available: 2010 Grade Quarter Horse Sorrel Gelding $7,500.





Bart is a nine-year-old, 15.3 hand, 1350 lb,grade Sorrel Ranch gelding. Bred by the AQHA best Remuda award-winning Bartlett Ranch in Wyoming and Carries their brand. Been in the same good Cowboys string since broke til now. For the last five years he's been on one of the bigger ranches in Northern New Mexico and done everything on the ranch you could ask for. This is a big man sized gelding that wears a number two Shoe, very strong and sturdy built. Bull shaggin, cow catching, suck anything up in the trailer kind of horse. Very good in the rocks and brush will hold a rope to tie something down. Drug lots of calves to brand. Hobble, Picket, and moral broke. A mountain horse Deluxe, he is gentle and easy to be around and knows what a day's work is. Taken care of lots of cattle and horses in big Country, been hunted off of also.
—————————————————
Country Western Singer RANDY TRAVIS with Curt Boyd and Kurt Hessinger. Thanks for a 
great day! Enjoy your Boyd Ranch Horses and Aussie!