Aussie Dams
Boyd Ranch Whoop N Dally
Sire: BWHS Whoop n Ride @ Boyd Ranch (Sire: Tucker King Of The Cowboys

STDS

Dam: Ninvehs Cut'N Loose Hula Girl

OTDs STDcd

)
Dam: Cut' N Loose Bosalita Of Boyd Ranch (Sire:

WTCH

W Lazy J Yippie Ki Yi Yo

RTDcs CD

Dam:

WTCH

Cut'N Loose Mi-T-Sweet Rosa

AFTDs

)
AKC/ASCA
By parentage eyes clear-HSF4/HC, CEA, CMR1, Cone Deg, PRA-prcd, MDR1 N/N, DM N/N Hips OFA prelims Excellent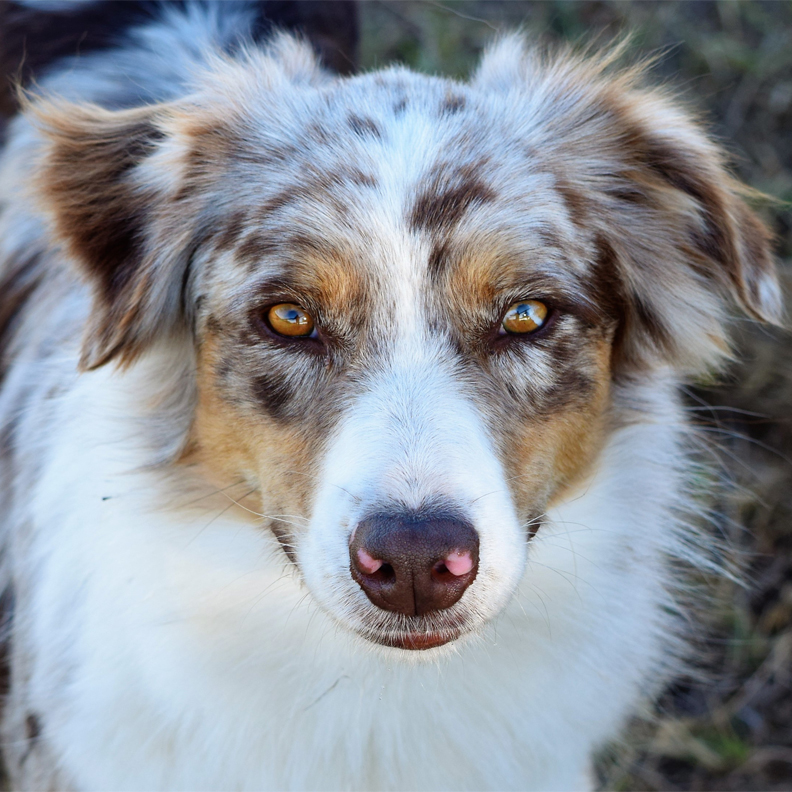 Dally is sired by Rider and her Dam is Bosalita. She was born at Boyd Ranch in NM and is out of the last litter of Bosalita's before her retirement. She's a beautiful Red Merle with a split amber/blue eye.
Dally has a lot of natural cow sense and at just 10 weeks old  she would hold the cows off me (with an older dog) while I put out salt and molasses tubs. She picked up on this in just a couple trips going out with me and a few older dogs in the side by side to put out feed. We moved to our Texas Ranch while Dally was still a pup and I started her here in the pens before moving cattle outside on the ranch. She has a good sense of group and is a natural driving dog, just like her daddy. She has no problems going to a head to turn or stop one and has been easy to work with.
Dally has always been very loyal to me and is never far from my side. She's good with visitors if we tell her they are ok and is fine to take anywhere with us. But I know she would protect the ranch and us if she felt we were threatened. She's a beautiful dog, with an outstanding disposition, and a fun personality!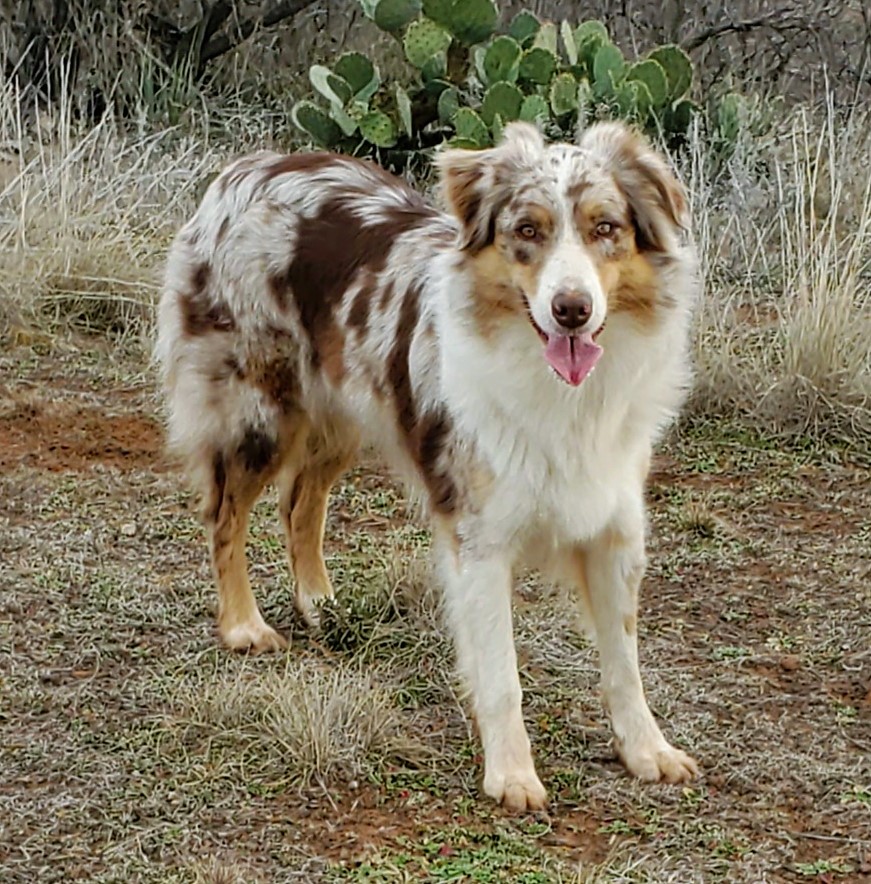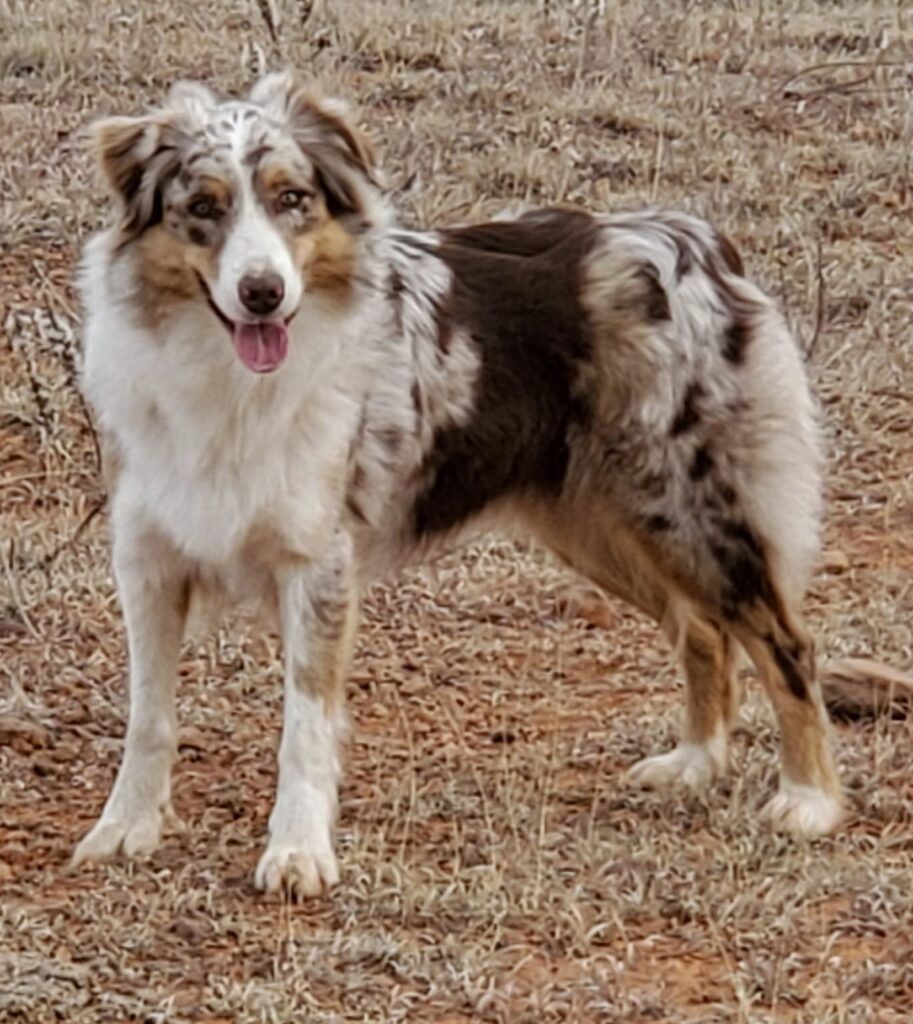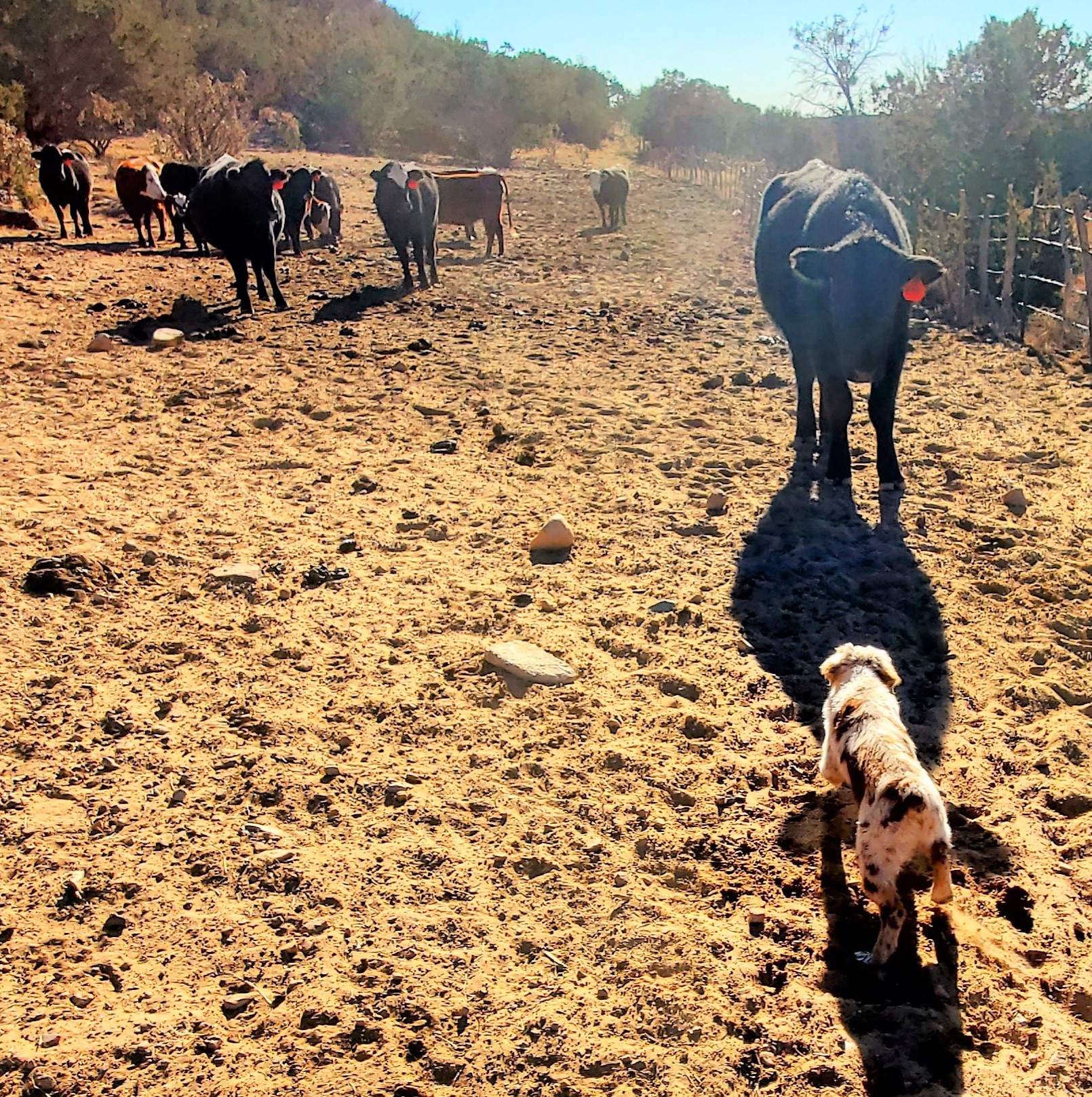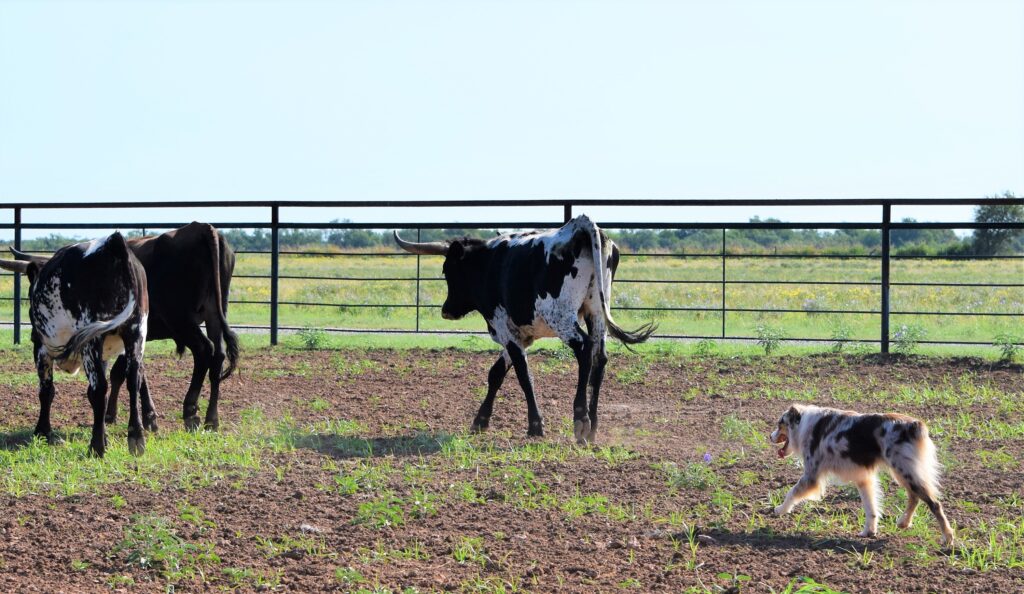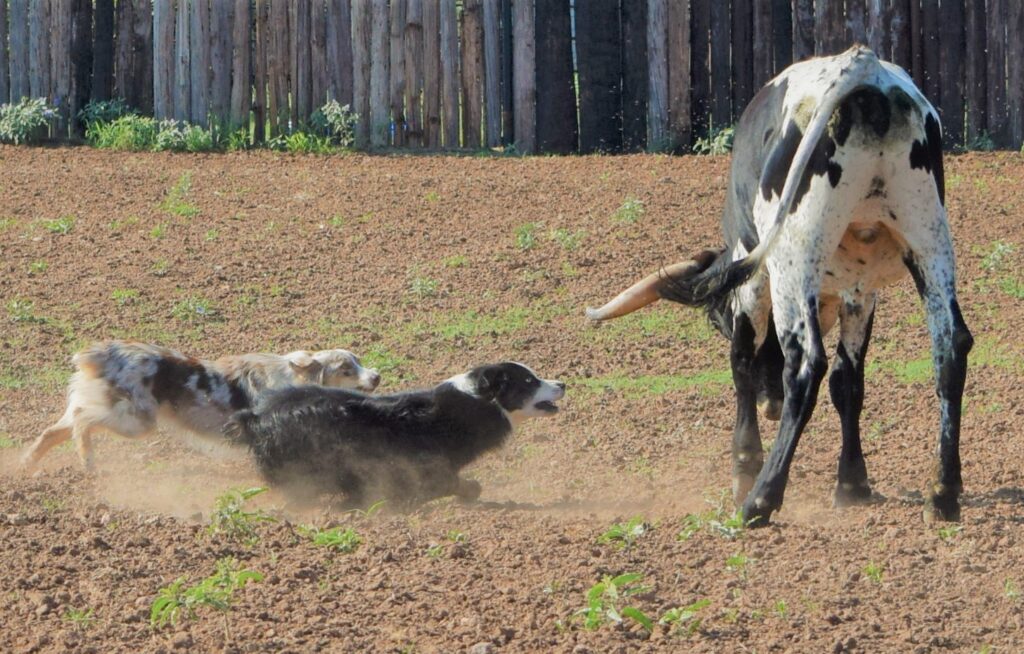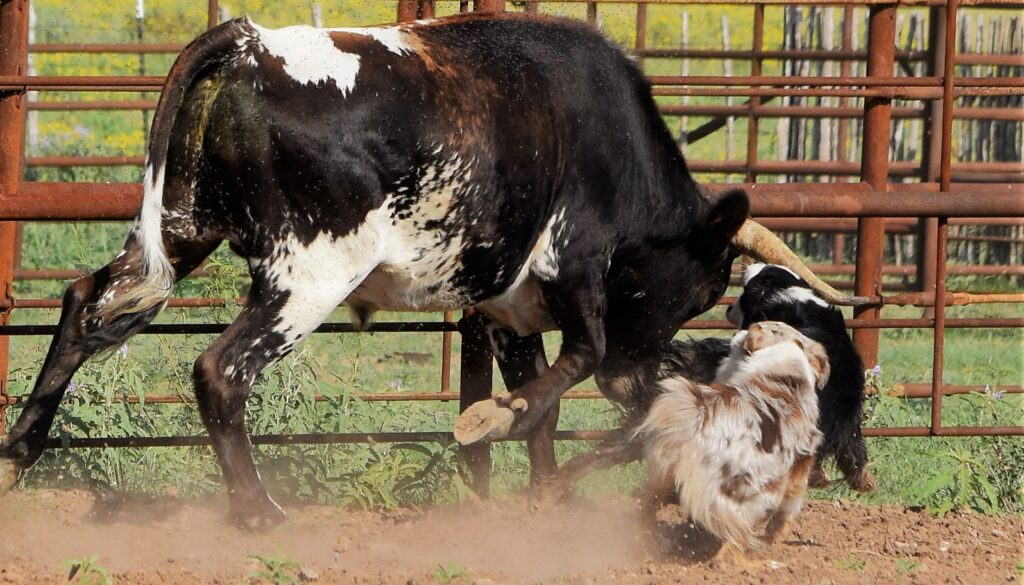 ———————————–
Boyd Ranch Punchy Cassidy
Dam: H Cross Silver Buckle Of Boyd Ranch (Sire: Slash V Rocky's High Man By:

HOF WTCH

Aggieland's Rocky Top) 
ASCA/AKC
By parentage eyes clear-HSF4/HC, CEA, CMR1, Cone Deg, PRA-prcd, MDR1 N/N, DM N/N Hips OFA Excellent

Cassidy is sired by Cowpuncher and dam is Buckles. She was born here at Boyd Ranch and I knew we were keeping her the minute she was born!
Cassidy started moving cattle on our ranch in NM without ever being started in the pens. She was coming a year old when we decided to move to Texas. We had all of our cattle to gather and get sorted, so I just put her to work with our finished dogs. She did great and went to pushing and driving cattle like she had always done it. She drives cattle well and just like her parents and has no problem going to a head. She has continued working here in Texas and has been a breeze to work with.
Cassidy is one of the fastest dogs I own and is extremely athletic. No bovine can out run her and she would have excelled in any agility or sport event. She is a beautiful well bred girl and we're excited to have her in our program!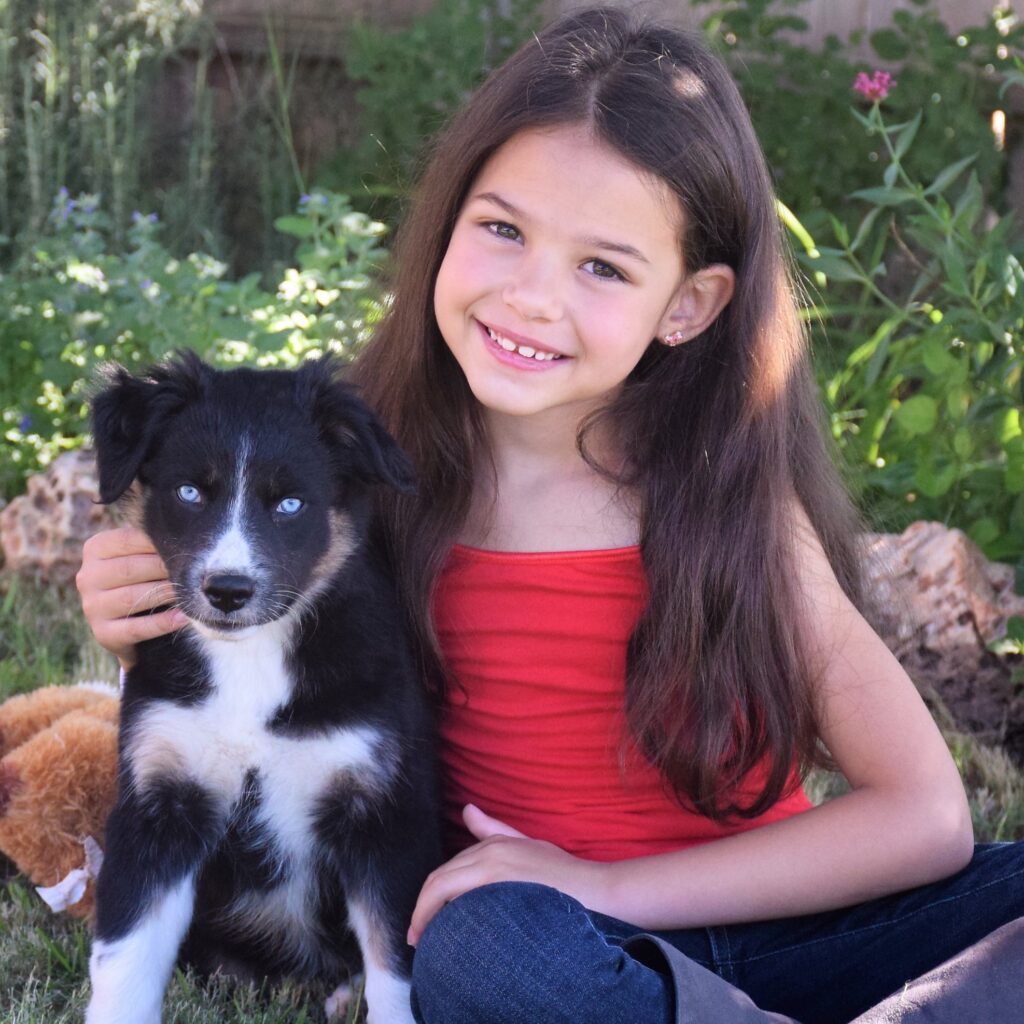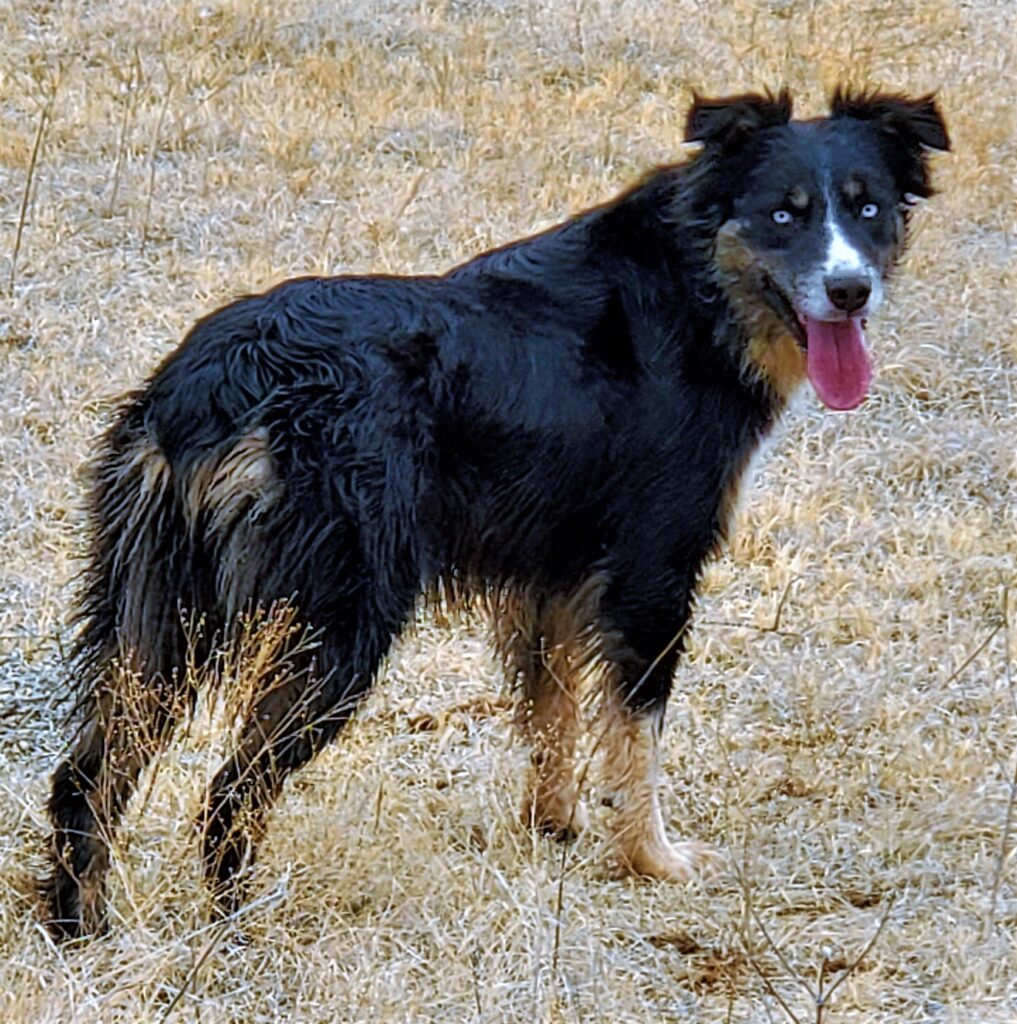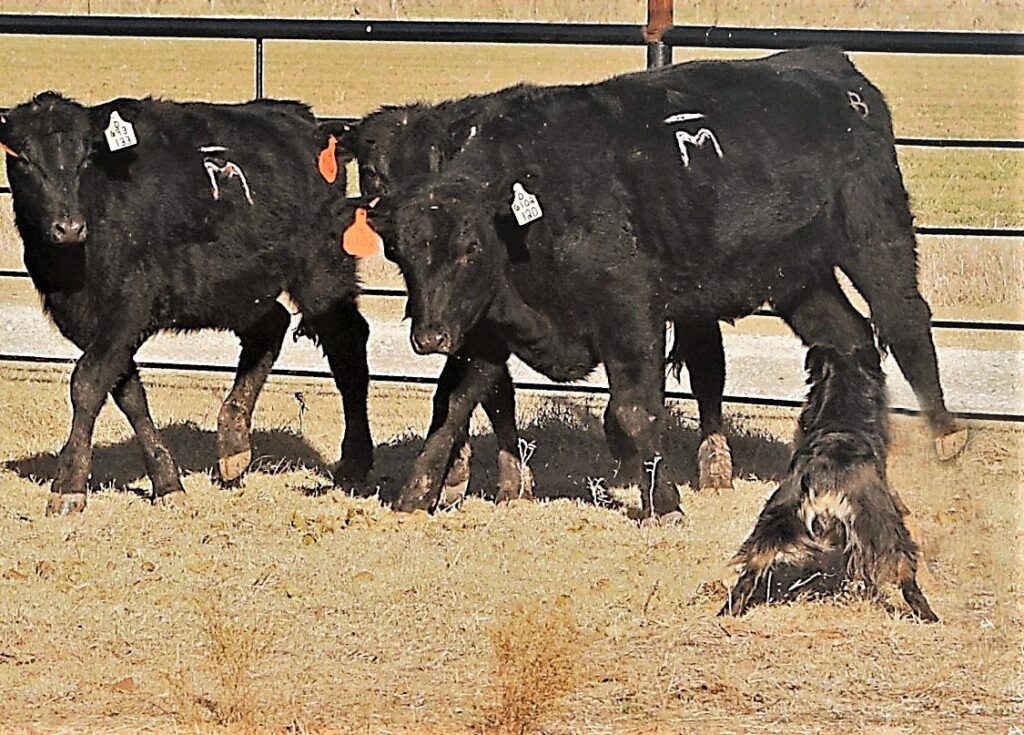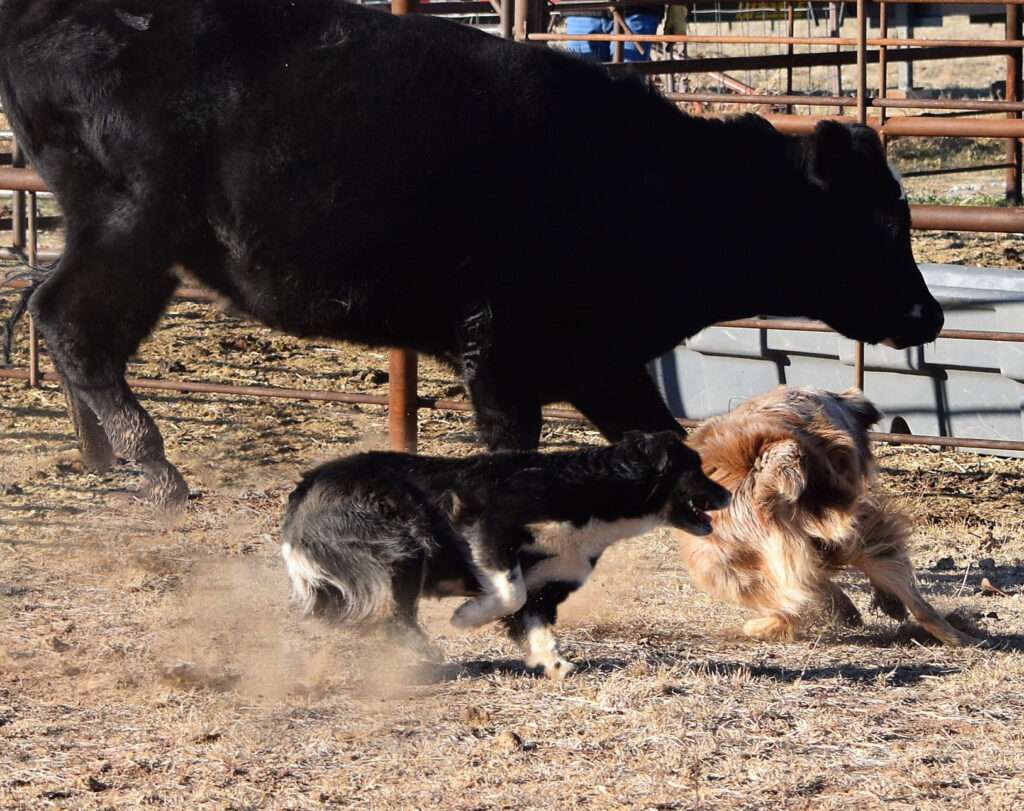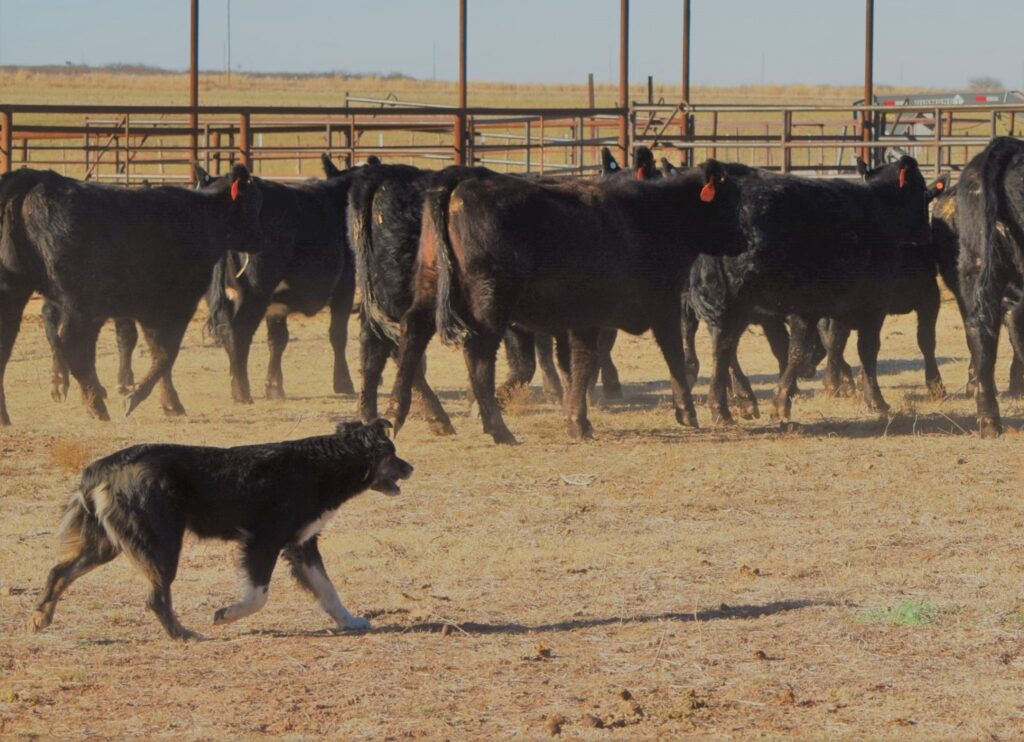 ——————————–
Boyd Ranch Whoop N Handi
Sire: BWHS Whoop n Ride @ Boyd Ranch (Sire: Tucker King Of The Cowboys

STDS

Dam: Ninvehs Cut'N Loose Hula Girl

OTDs STDcd

)
Dam: Boyd Ranch Hangin Cheyenne (Sire: Blazin Sun Latigo Of Boyd Ranch Dam: Rising Sun Hangin Chaps By

WTCH CH

Spring Fever of Rising Sun

RTDc

Out of

HOF WTCH

Hangin Tree Trouble)
ASCA/AKC
By parentage eyes clear-HSF4/HC, CEA, CMR1, Cone Deg, PRA-prcd, MDR1 N/N, DM N/N Hips OFA Prelim-Good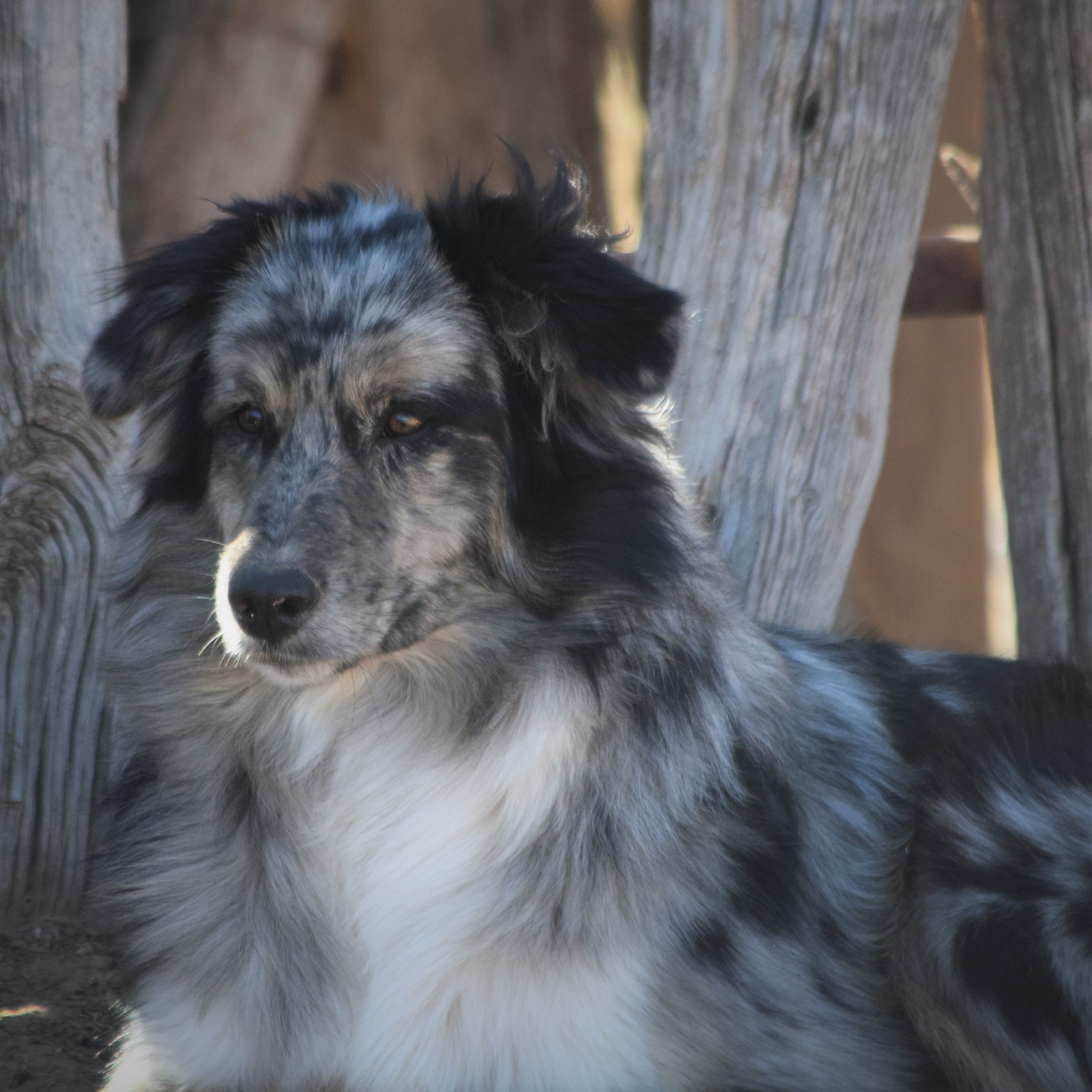 Handi was born here at Boyd Ranch and is out of Cheyenne X Rider. She is the first Rider pup we've kept and she reminds me a lot of him, with a great disposition and great work ethic too. She is out of Cheyenne's last litter and is also a lot like her mom, who is easy to live with and very trainable.
Handi started working cattle with her dad Rider when she was around 7 months old. Her natural ability on stock never surprised us because it's strong in her lineage. She's been easy to work with and has made some big and long cattle drives in 2020 and has no quit in her. She has a good sense of group and is a strong driving dog but will go to the heads to stop one.
Handi is a beautiful dog with a big long trot that can cover some country. She loves to be pet and scratched on and told what a great dog she is…she'll even talk back to you with her doggie grunts and silly noises. She sure is a fun dog to live with .




————————————–
Sire: Flatrock Hangin Judge "Bubba"
Dam: Turkey Run Bellboot of Boyd Ranch

(By: HOF SPCH WTCH ATCH-II OTCH Certik-Bertik RTDcs UDX TD RN RS-E-SP JS-E-SP GS-E-SP MAD AA AJ AG AR AS EJC ERC EGC

) 
ASCA/AKC
Pedigree Cinchy: Sire Pedigree and Dam Pedigree
Eyes clear N/N-HSF4/HC, CEA, CMR1, Cone Deg, PRA-prcd. MDR1 N/N, DM N/N OFA-prelim Good!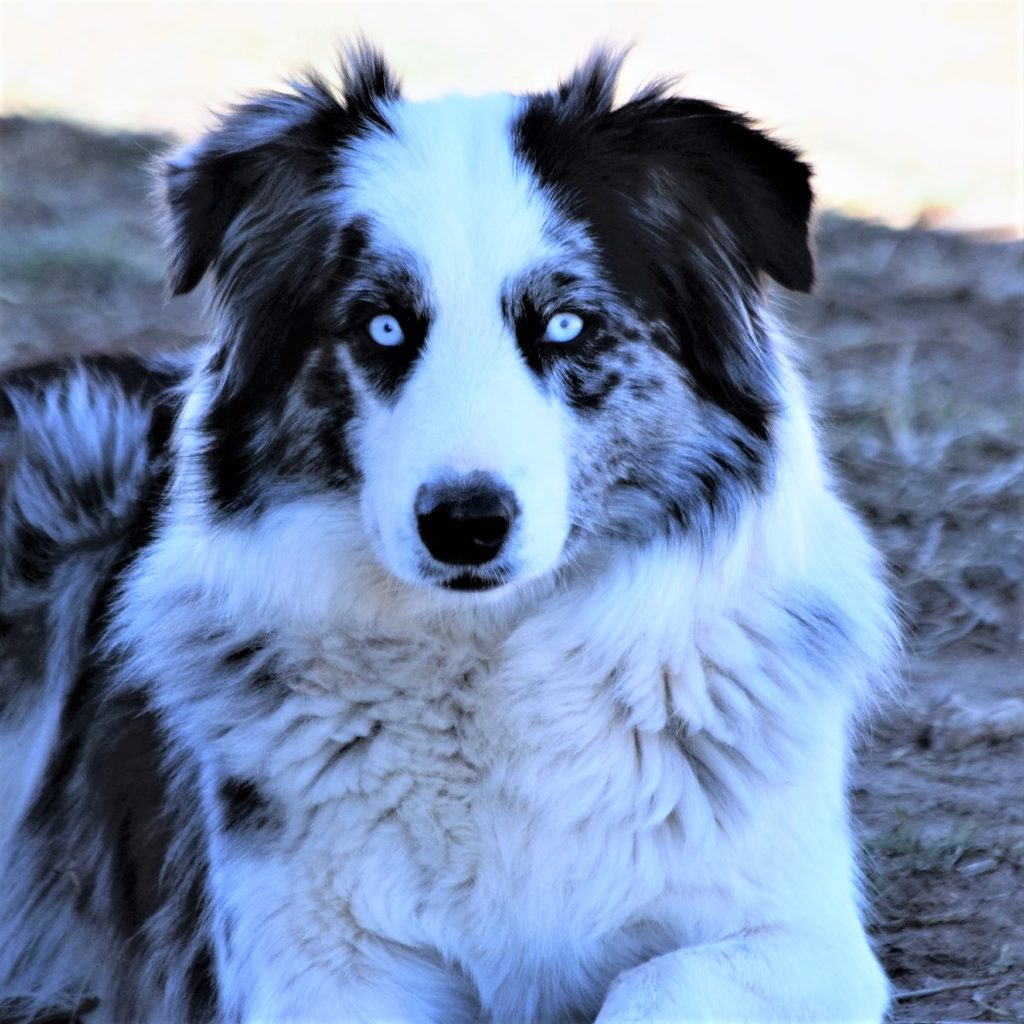 Cinchy was born here at Boyd Ranch and is sired by Bubba and her dam is Bellboot. She has an excellent pedigree and is also an excellent Ranch dog!
She is great on stock and is very strong on the heads but will also drive cattle well. She has a good sense of group and loves to work! She had a full time job here gathering and driving cattle before she was a year old.
Cinchy has a fantastic disposition, is good with visitors, but is still a loyal dog to her family. I had Cinchy with me in the cattle pens, when she was just 3 months old. I was opening some gates and getting ready to work some of the older dogs on some calves in the pens. Cinchy ran into the pen and held up the calves on one end of the pen. I snapped a picture of her as I was walking in to pick her up, I think she was showing me she was big enough to work too! She had to wait a few months for that…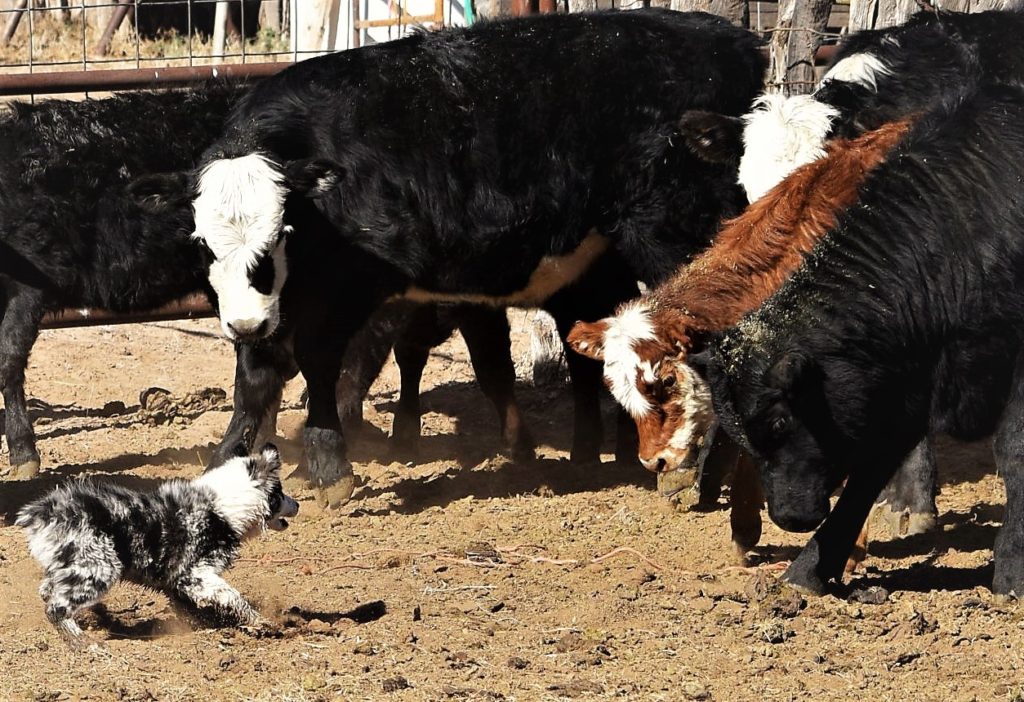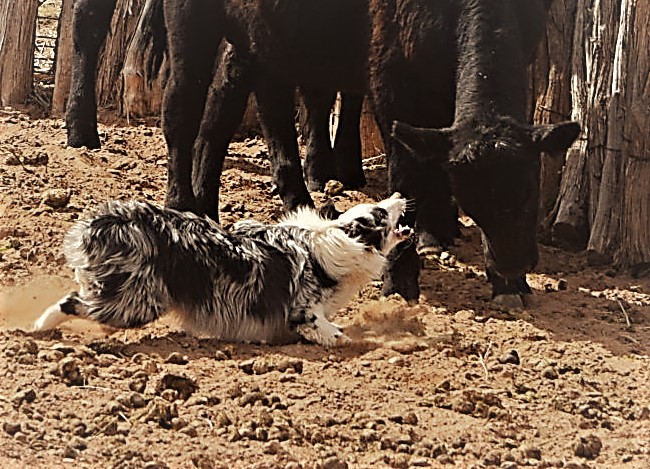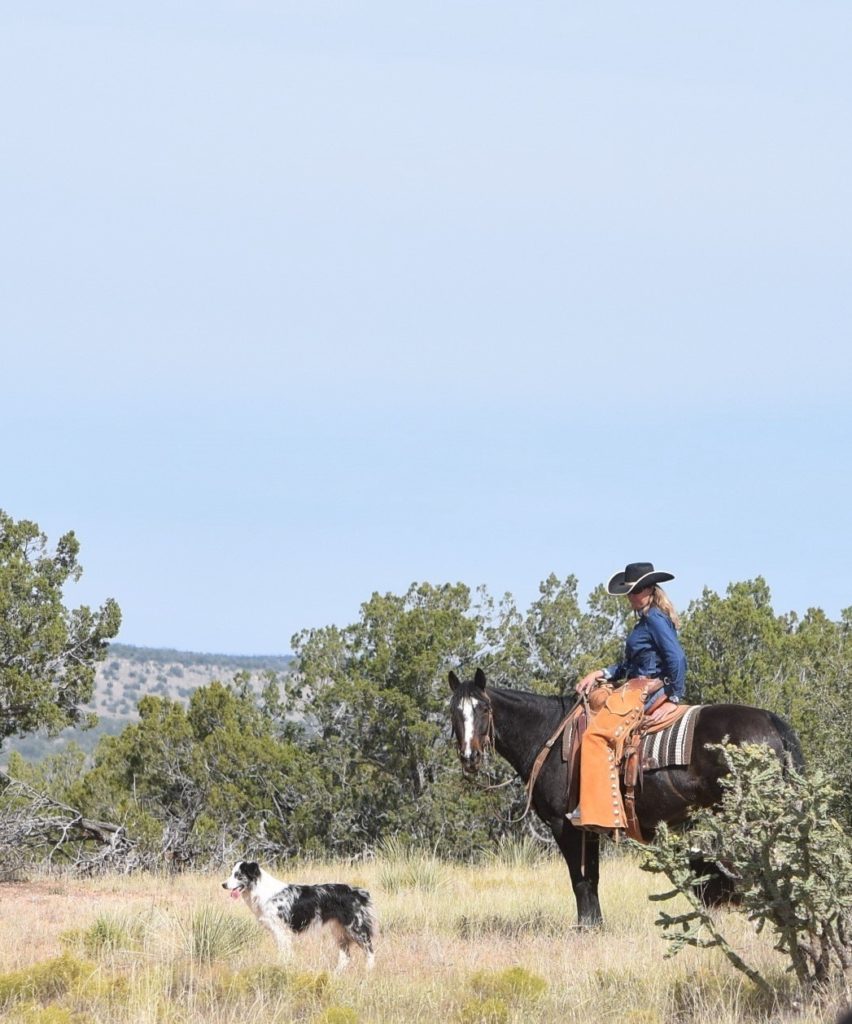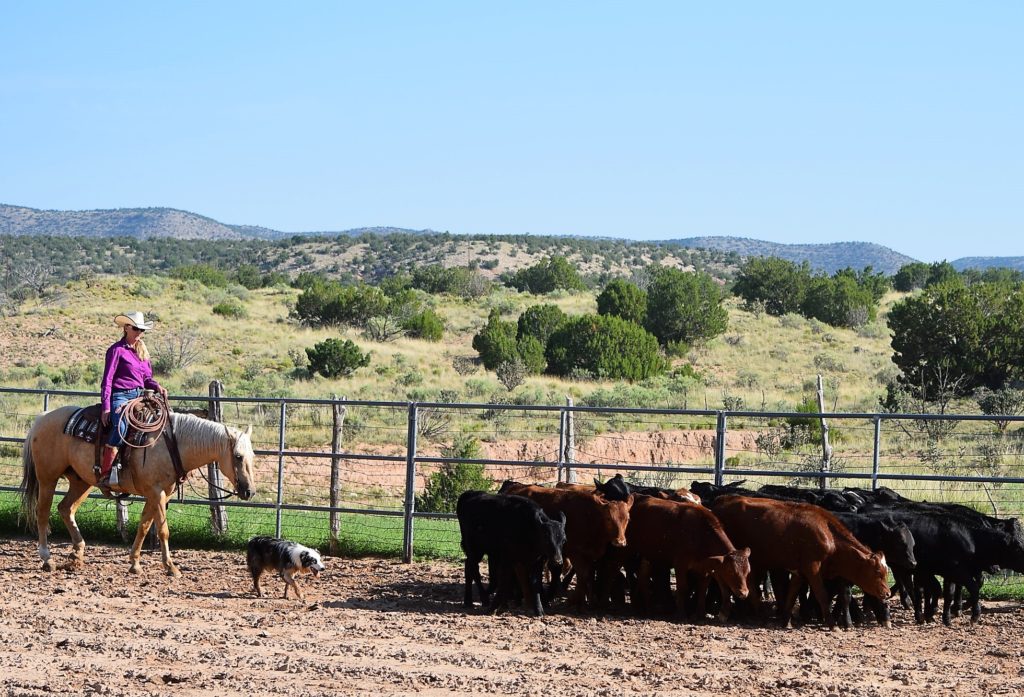 ---
Rkstrs Catty @ Boyd Ranch
Sire: Blazing Sun Latigo of Boyd Ranch (Sire Crown Point Commander in Chief By:

WTCH

Crown Point Chief of True Grit

RTDs PATds RD
Dam: Crown Point Red Carmelita
ASCA/AKC
By Parentage Eyes clear -HSF4/HC, CEA, Cone Deg, PRA-prcd. CMR1 N/N, MDR1 N/N, DM N/N or M/N, OFA good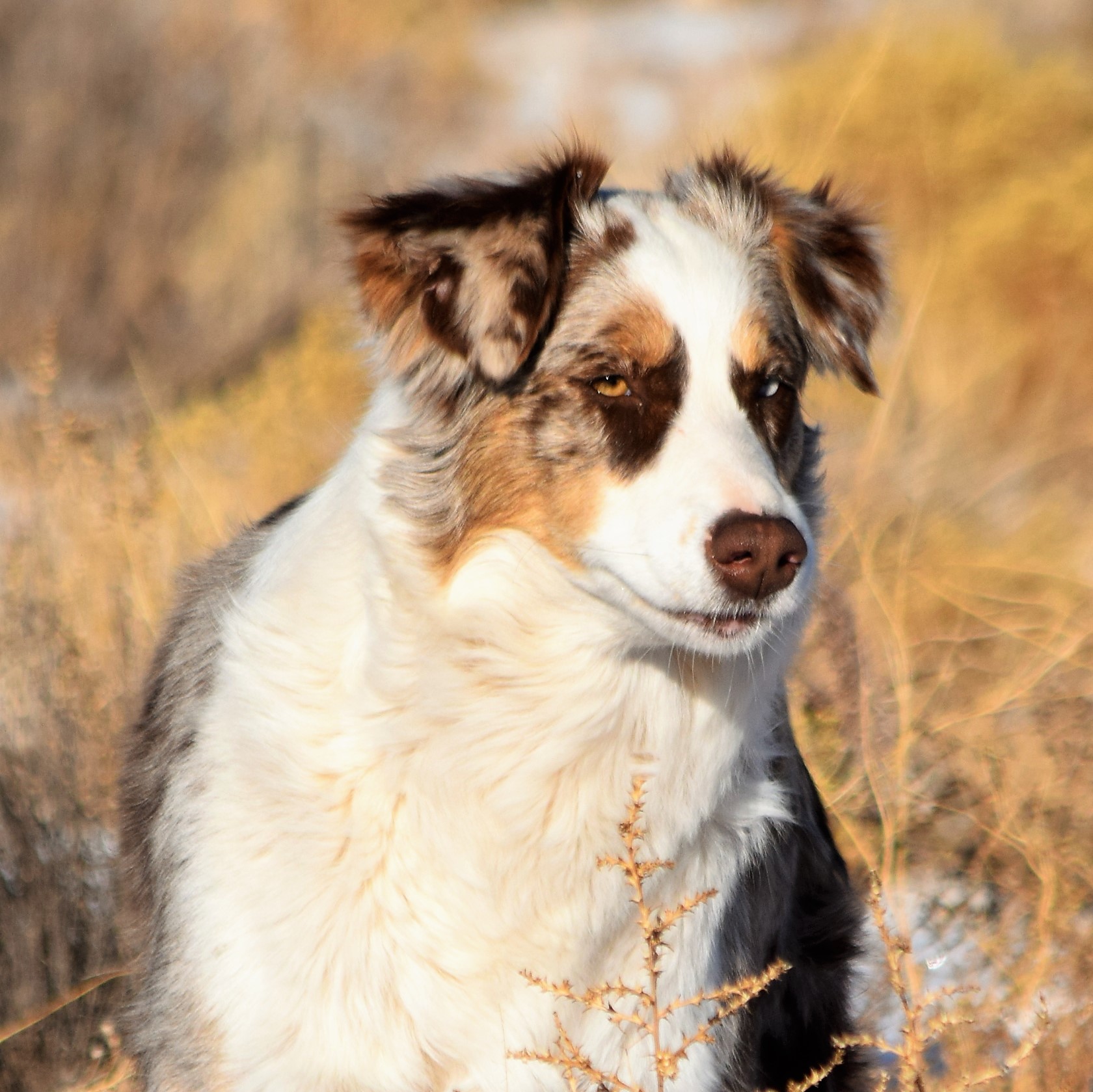 Catty is a beautiful Red Merle who's sire is Latigo and Dam is a Crown Point female Carmelita. She has one amber eye and one blue.
She's very cowy and was put to the test on the ranch when she was 11 months old. I had instinct tested her with Rider in the arena a couple months sooner and I got busy moving cattle during the Spring and hadn't worked her since. One day I was out of fresh trained dogs so I took her at 11 months old with 11 year old Chappy and gathered and moved cows a few miles. She figured out what we were doing within a few minutes and did a great job! She has continued helping us since then and is a hand on the ranch.
Catty is a sweet dog and loves to get hugs. She'll put her muzzle under our chin to get attention and to get hugged. She even does this with the dog pack! She's a funny girl.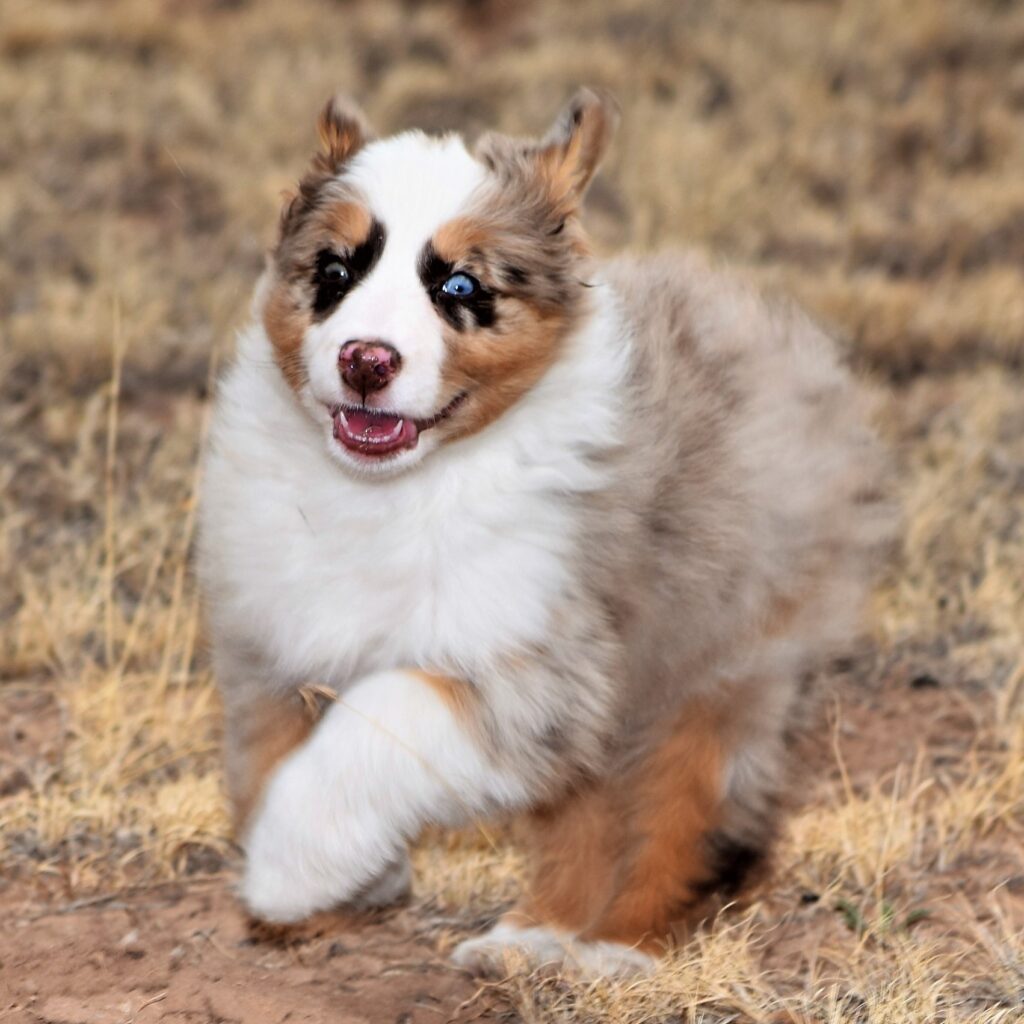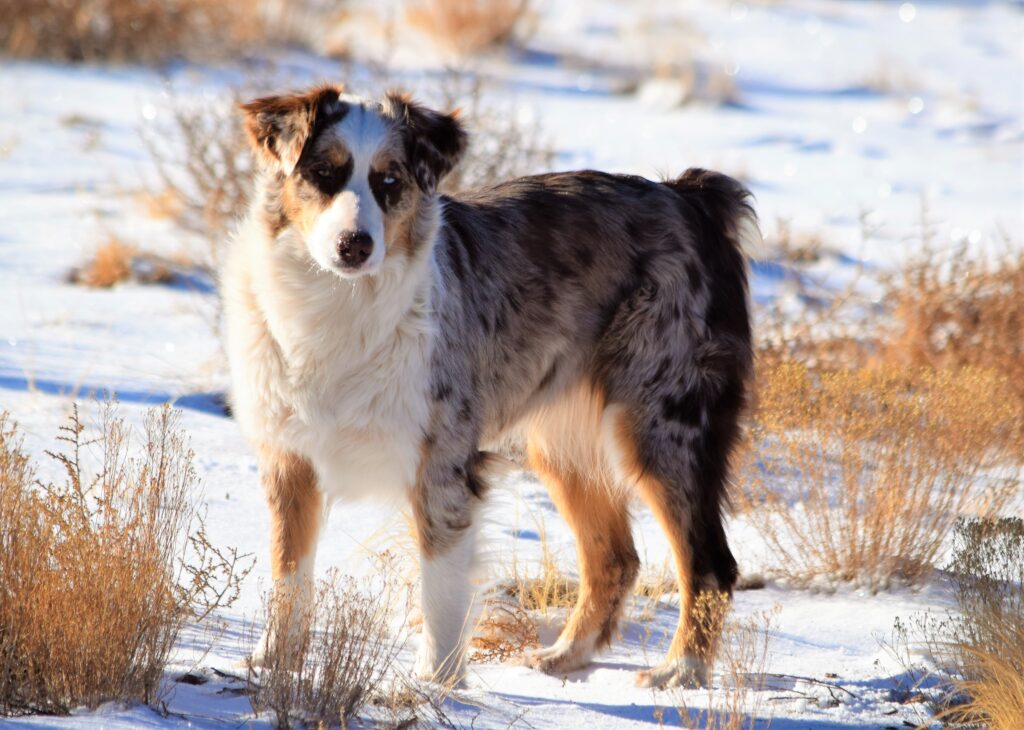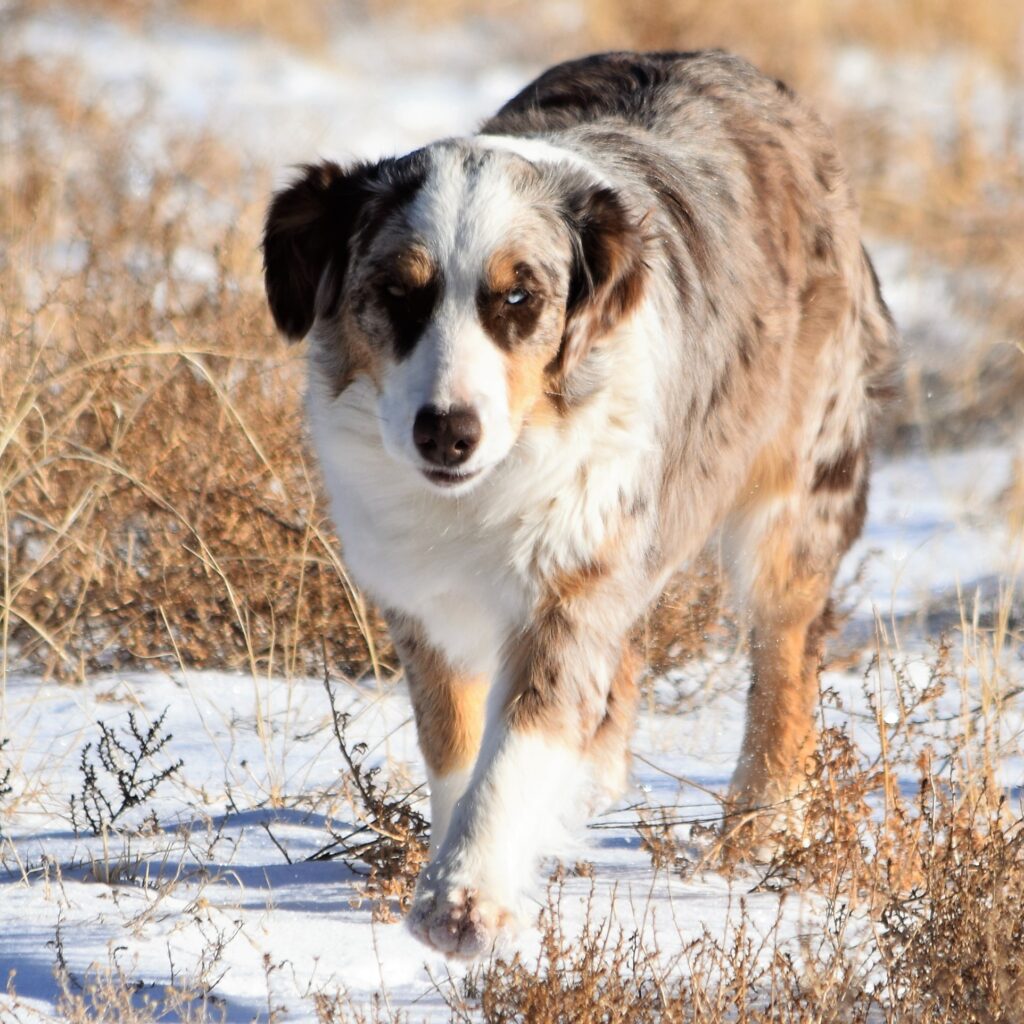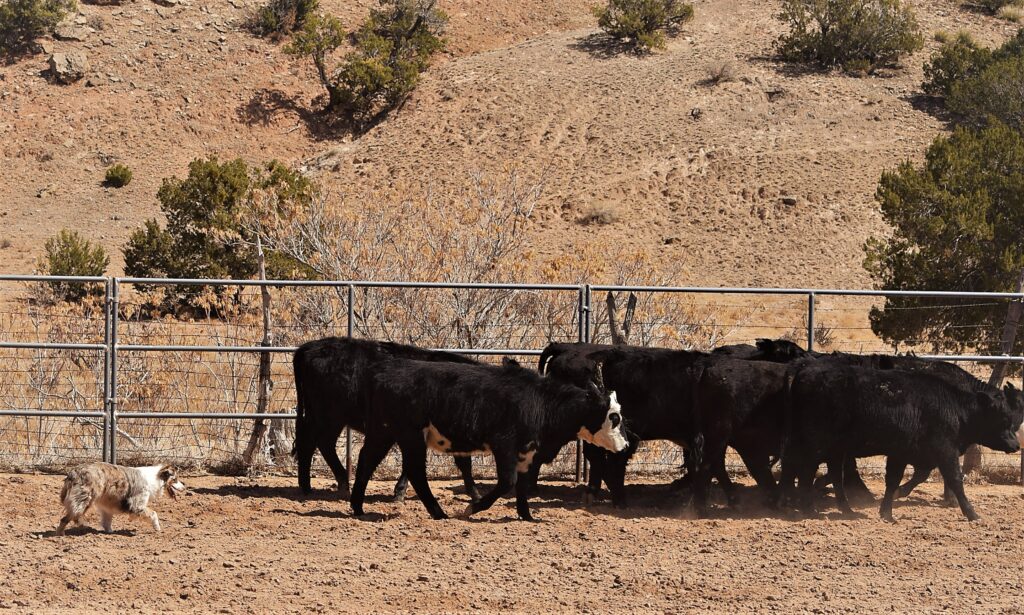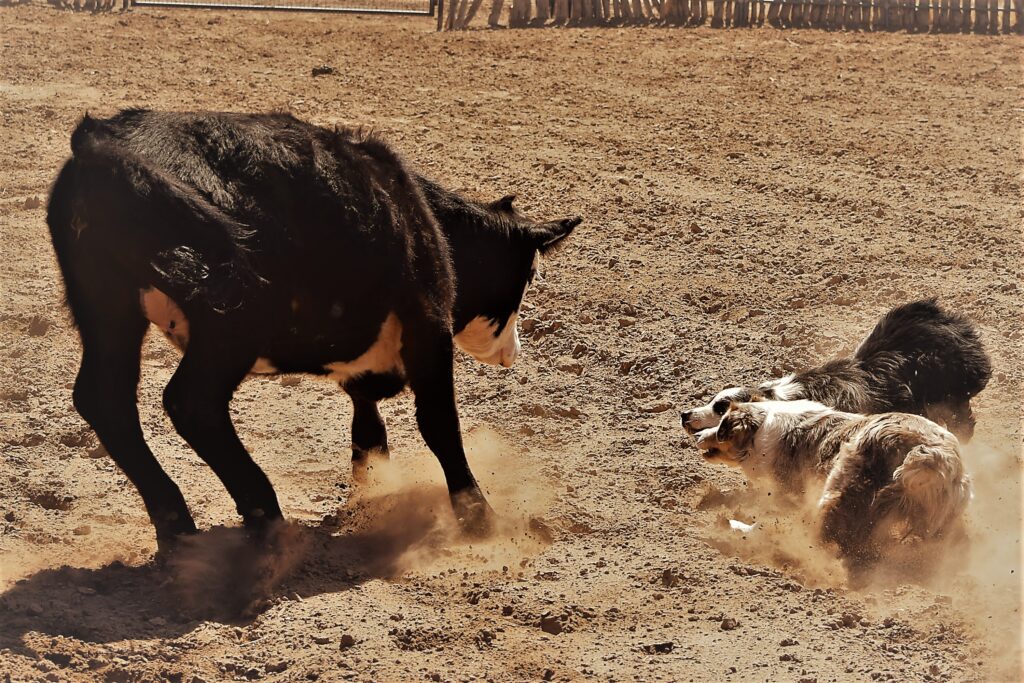 ________________________________________
Twin Oaks Cowgirl Up @ Boyd Ranch
Twin Oaks Cowgirl Up @ Boyd Ranch
Sire: Twin Oaks Yep I'm Zeus! 

STDd OTDcs
Dam: Twin Oaks Jet Fuel N Diesel
ASCA/AKC
By Parentage Eyes clear -HSF4/HC, CEA, Cone Deg, PRA-prcd. CMR1 N/N or M/N, MDR1 N/N, DM N/N, OFA Good!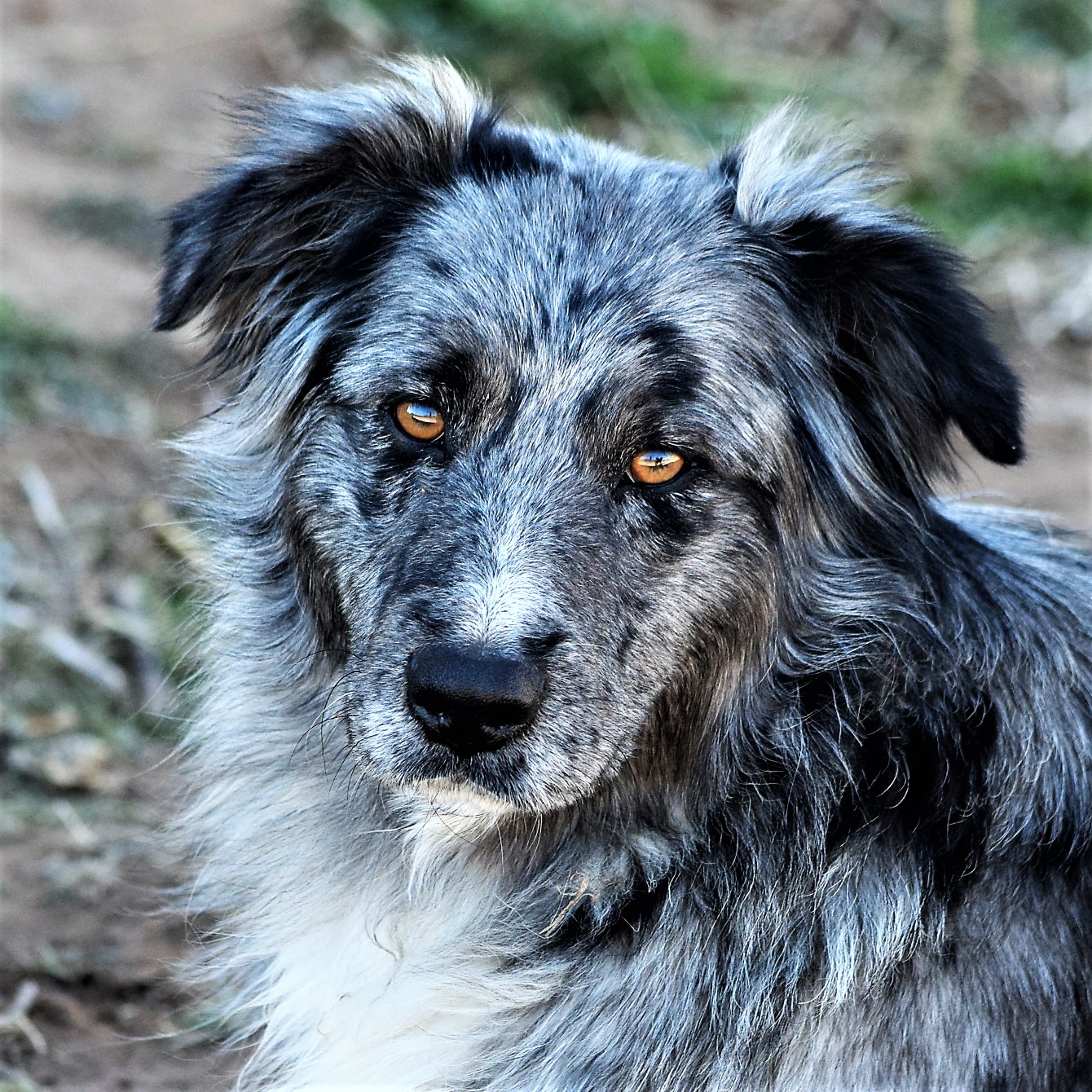 Cowgirl arrived here when she was an adorable 3 month old pup from Twin Oaks in California. She has matured into a beautiful Aussie and we're very happy to have her here.
We started her on cattle when she was about 6 months old and she had a lot of natural cow sense. She has continued to progress into a handy Ranch cowdog. Cowgirl has a lot of eye for an Aussie and is a quite worker. She thinks before reacting and excels at moving pairs.
Cowgirl is happy spending the day pushing cattle on the ranch or hanging with us fixing fence. She's very easy to get along with.
I've always thought of Cowgirl as having an old soul. She sometimes looks at me as if she knows what I'm saying to her and as if she's heard it all before…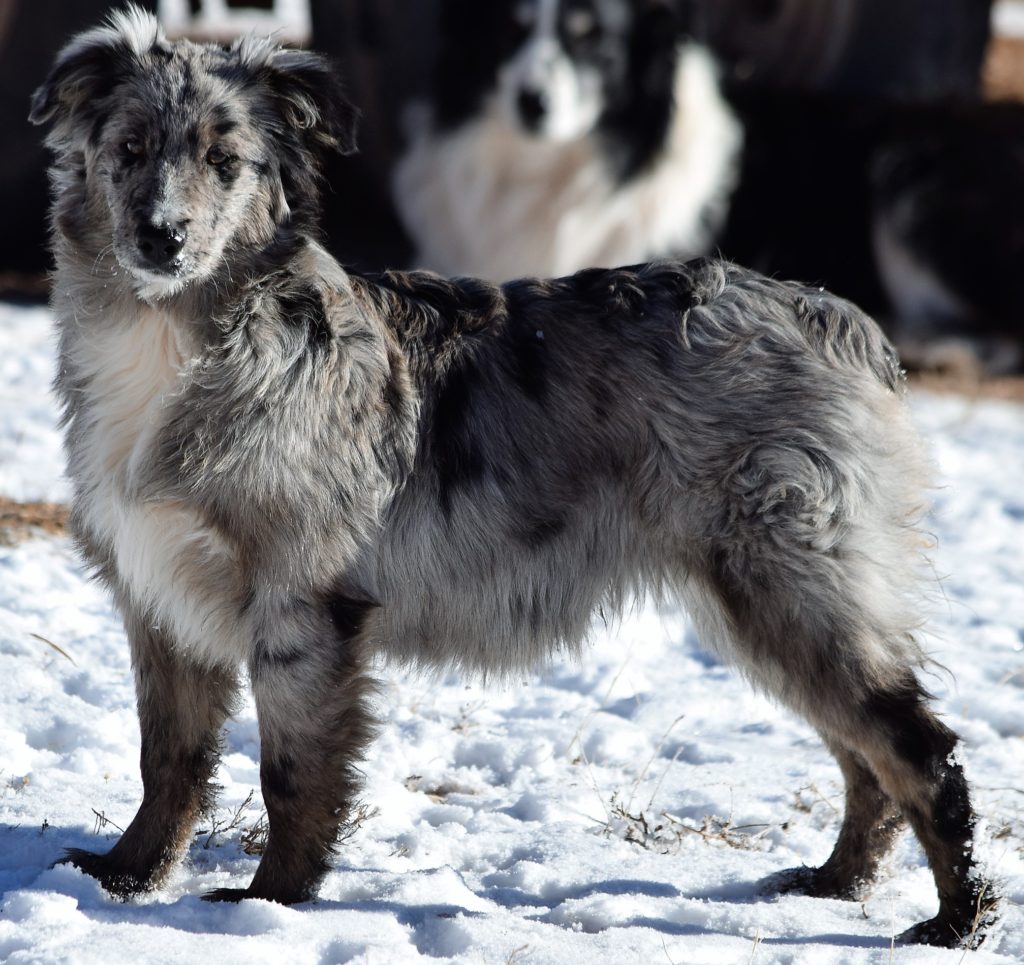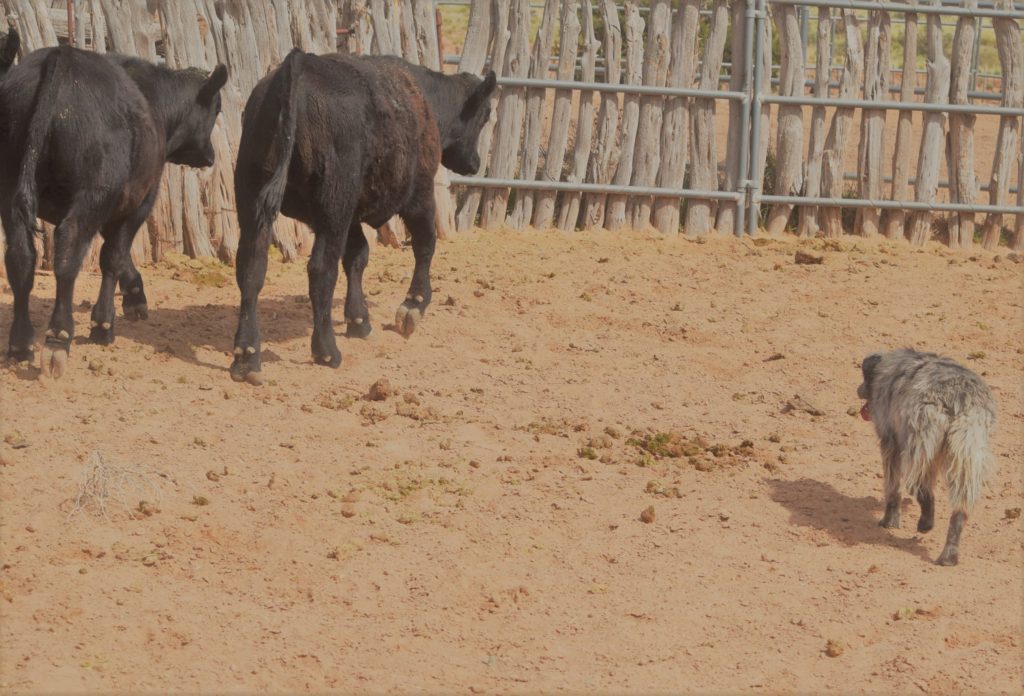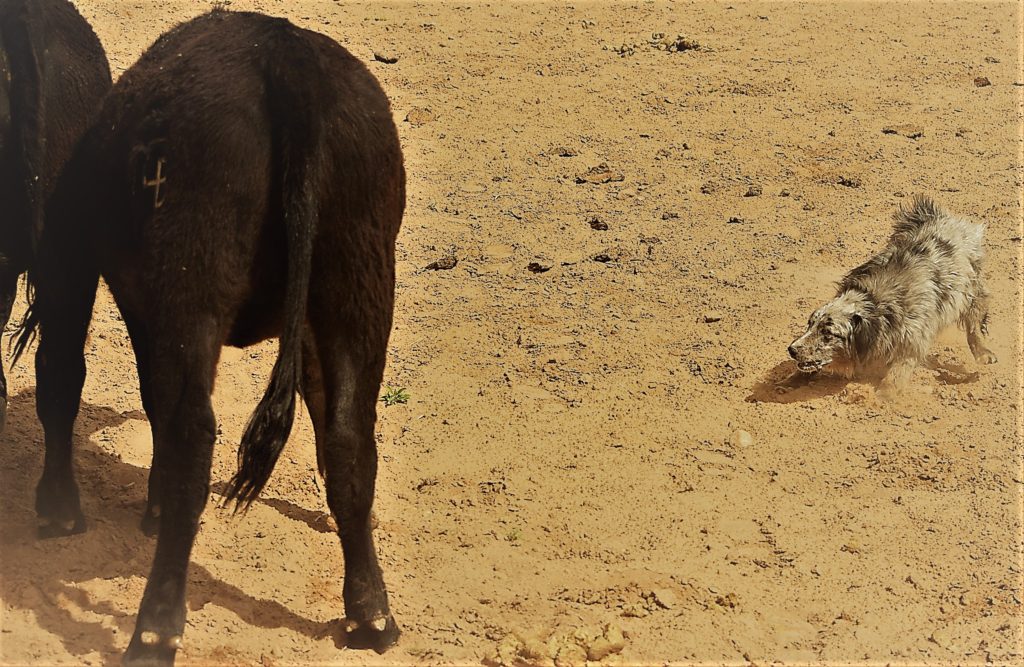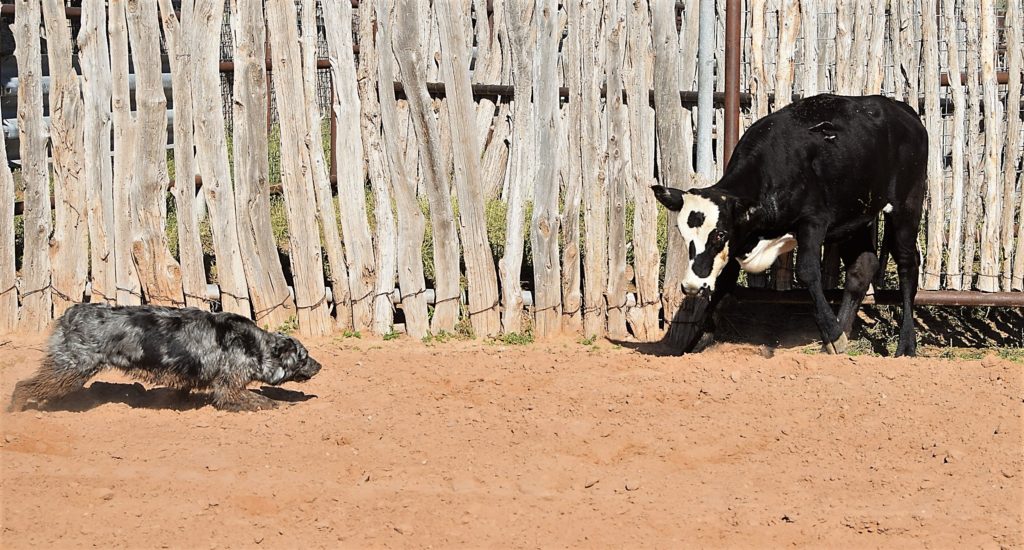 ————————————————————————————————
Watch Our Aussies Out On The Ranch Moving Cattle!
WATCH OUR AUSSIES MOVING HEIFERS "SLOW AND EASY."
WE ARE MEMBERS OF WORKING AUSSIE SOURCE