Testimonials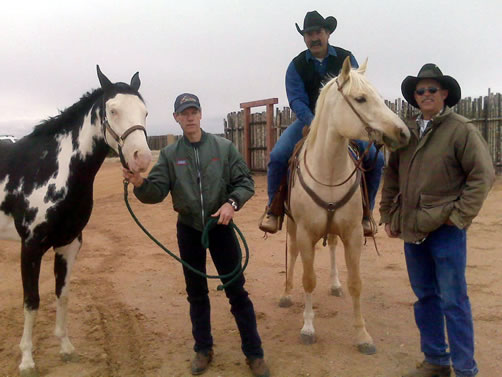 Country Western Singer RANDY TRAVIS with Curt Boyd and Kurt Hessinger. Thanks for a great day! Enjoy your Boyd Ranch Horses and Aussie!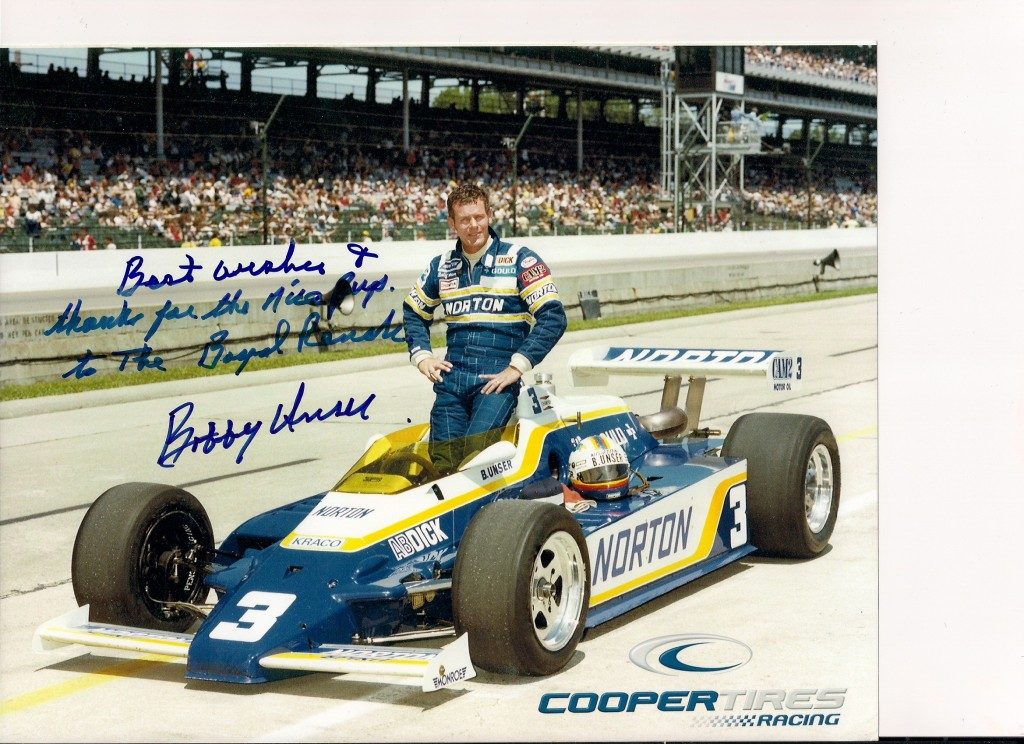 Best Wishes and Thank You for the nice pup, To the Boyd Ranch.


 Bobby Unser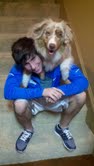 We are so happy with our Aussie, he is absolutely a part of the family.  Never a dull moment and always ready to work and Play!  Susan  knows her dogs and made the transition to our home so easy.  We Absolutely Love him, Thank you so much!!


Britt Brown MS, ATC, LAT 

Associate Athletic Trainer
Dallas Cowboys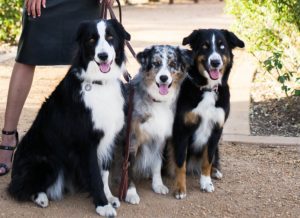 Susan –
Hope you are well! It is time for my annual picture and update I send. Phantom and Medusa (Duci) turn 4 this Saturday! Rain turned 3 in August!
They are happy, fun, and the best dogs ever! Duci is still in agility, and has earned a couple of titles. She continues to get tons of compliments because she is so fast. She has a following of people who like to watch us run a course together at trials.
Rain and Phantom are herding on the weekends in Peralta with Kyle. They like him, he likes them and he calls them "bad asses". He thinks they are super smart. The girls have a blast.
They are still in obedience, play frisbee, and go shopping at Uptown with me. They are very versatile….herding dog meets urban world haha.
We took the attached picture in April of this year (I cropped myself out ). I am continually grateful to have them. They truly are amazing! We hope you have a fantastic holiday season!


Phantom, Duci, Rain, & Valerie
Susan, I just wanted to say thanks for breeding such a wonderful puppy! Quigley is now 7 months old and we love him! He is my favorite Aussie I've ever owned and the bar was set pretty high. He is great with our youngest kiddos and keeps an eye on them when they are playing outside. He doesn't jump on them or knock them over, which is nice, because he is a moose! In doing chores he follows us closely and listens nicely. Today a chicken escaped and he jumped to work. He pounced on the chicken and I was worried for the chicken. He listened to me right away, pushed the chicken to me, then stood by and made sure the chicken didn't escape. The chicken wasn't harmed at all. He is so pretty and sweet, and I know he will only get better as he gets older. Thanks again, and know that he is a loved member of our family. Harmoni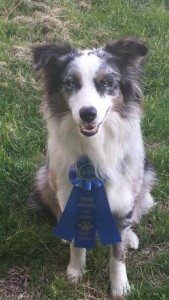 Dear Susan,
This note is long overdue.  I have been meaning to update you on Logan's progress for so long, but life has been keeping me busy with three young children and two young pups.  I just wanted to let you know how pleased we are with Logan and just what a wonderful dog he is.  His temperament is just wonderful and exactly what we were looking for.  Logan is my 6th aussie and he is everything we ever hoped for.  I have owned show lines and pure working lines and he really is just a wonderful representative of the breed.  He can work whenever I ask, but also settle down by your feet at night.  He is super smart and to prove it in his first rally obedience trial he got 1st place in two trials!!! I am so proud of him and attached  pictures above with his lovely blue ribbon!  I have started him on sheep as well and he is doing great and showing so much potential.  He also started agility and is really just a great versatile dog!  He gets along with everyone dog and human and is so even keeled.  I am so happy with him and cannot wait to breed him in a couple years so that he can pass these wonderful traits on to his pups.  We have a pure fairoaks line that is wonderful too, but can be a handful.  We are hoping his disposition will level out the pups some-we will keep you posted on that as well as any future accomplishments.  This cross was just wonderful and I tell everyone about him so if you get a few phone calls from the northeast you will know why!  Everyone compliments him!


Lisa Wance, B.A., CPDT-KA
The Prestigious Paw LLC
CPDT-KA Certified Professional Dog Trainer-Knowledge Assessed
ACDBC-Associate Certified Dog Behavior Consultant
CCPDT-Certification Council for Professional Dog Trainers
IAABC-International Association of Animal Behavior Consultants
APDT-Association of Professional Dog Trainers
CGC Evaluator #752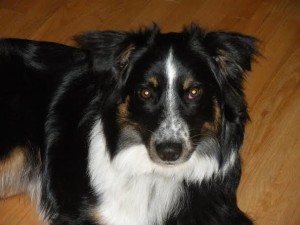 Dear Susan,
I hope this finds you well. I saw on your website that you recently welcomed another beautiful litter – they're gorgeous!
I thought you might be interested to know how things are going with Zephyr (kennel name Wyoming) now that he's closing in on 8 months. In a word – this pup has it all! I am so in love with him and so impressed with him!
He's smart, good natured, loves other dogs (which kind of surprises me given his working pedigree), is affectionate and loyal, and he's positively beautiful. People tell me all the time what a good looking dog he is. He's a tad smaller than his parents – he'll wind up probably around 41-42 pounds – and has the most amazing coat, the black not at all dusty and the copper pure and glowing! Also, his face is so handsome! He's athletic and brave AND ALSO a great companion pet. Really, I'm not kidding, he has it all.
Anyway, I took him today for an "evaluation" to a facility where you can work your dog with stock.  I was thinking to myself that it would be absolutely impossible that Zephyr wouldn't just go for it.  And, of course, he was like a fish finally being put back in the water. Like he needed to be evaluated!  I'll be starting him on sheep for real in a couple of months since he's still kind of young. It was really a thrill to see him, though, just for a short time just doing what he was meant to do. I wish there were a place I could work him with cattle on horseback – but I suppose that sounds dumb to you since you do it for a living and I would just want to "play" – ha!  Like in City Slickers!
We go for walks on the trails across from my house. We go to the beach. We go to the dog park. He chases balls and keeps the wheelbarrow and the lawn mower from trying anything funny. He gets the mail. He's learning some tricks just because he can, and we do some little pre-agility stuff in the yard.
I swear if it weren't so embarrassing, I would tell everyone how much this dog means to me – but I thought that you, of all people, would want to know.


All the best, 

Alison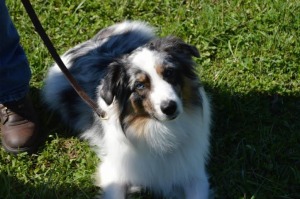 Hi Susan,
We took Powder to his first trial today. He titled on started sheep. We have just started him on cattle. We have been working/training for about 7 months. We cannot be happier with him. The natural ability he has is amazing. No believes he is only a year old. Rates stock really well and instinctively knows where to be. Perfect first stock dog for us.


Jill Dillman DVM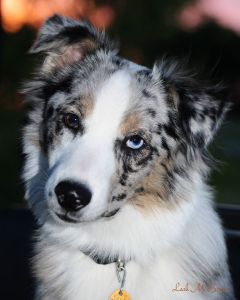 I hope you guys are doing good these days.  We are finishing our move to the Oklahoma ranch.  The cows love the grass and it is about 8-10 degrees cooler than our Texas ranch.
I wanted to drop you a note about Cody.  He is the most awesome Aussie, and I just love him.  He is my buddy and is the best cow dog I could have ever imagined owning.  He is a natural and does everything I ask him to do.  He gets so excited every time he sees the cattle….even if it was 30 minutes ago.  When I get near the cattle he just believes he needs to be there to help me.  He can do it all and is so fast the cattle don't have a chance.  However, he is quick to shut it all down when I tell him  to do so.

Cody is just a perfect dog and companion.


All the best,
Don
Thank you Curt & Susan!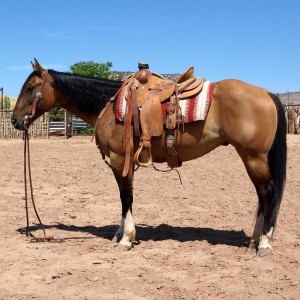 I am very happy with Snap. We got home 10:30 last night. Loooong trip, but he handled it well. I rode him this morning and got along great…he is a traveling dude!! Loved it! I look forward to many years of good rides and head turns! He is a looker! So nice to meet you!


Consider me a friend always!
Linda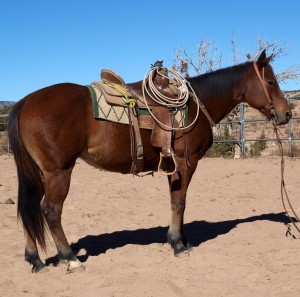 Curt,
Wanted to let you know T boy has found his permanent home.  He's been very sound at everything we've  asked  him to do.   He's been to a few team sortings and proved himself pretty well.   Hope all is well with you and thanks again for T boy.


Carla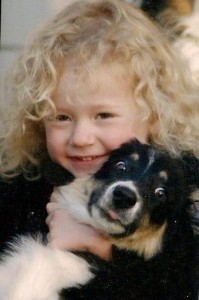 Hi Susan,                                                                                                            
I don't know how I got so lucky as to find your website with your wonderful Aussies. Thank You so much for being a good person to partner with to raise a great Aussie! We feel like we got more information from you about our puppy than anybody previously and she is growing up to be a really great dog. We are incredibly happy with her. Hailey, Lassie, Leighty, aka Savannah, is growing up to be one seriously intense, smart dog.
Thank you! We are incredibly happy with Hailey. We'd love to get another one so don't be surprised if you hear from us again in the future. Again, Thank You for giving your Aussies such a great start. We are very happy to be the care takers of Hailey.


Leah Leighty

Dear Curt and Susan, I just wanted to let you know that we got the papers and all is well. We have been riding the two horse's that we got from you and they are just what you said they are and they have not made any mistakes since we got them home. I have headed steers in the arena on Shaker and roped and doctored calves in the country and made some big circles bringing cattle down from the high country and Shaker is a great addition to our heard. Alex is one of my favorite horses on the place as he will be going to his first jackpot the first of Nov. I have sorted pairs and trailed on him and he is a real nice horse. Thanks for the hospitality while we were down at your place, we had a good time and a good trip.

Dave/Susie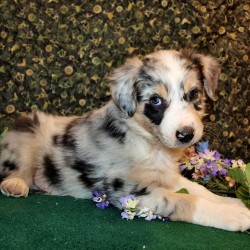 Hello,
I finally have a minute to write and tell you how happy I am with Luca ( Doc ).  You should have bragged about your puppies more!  You should have told me how exceptional they are!  He is the perfect puppy for me and has settled into our family life with ease.  I loved him from the moment I saw him in his crate at the airport pick up station.  He was sitting in his crate, crying long and loud letting everyone know how unhappy he was in that crate.  Just adorable.   He bonded quickly with my daughter riding home in the car from the airport and she is not an easy sell!  He has made a place for himself with my 2 girls.  Scarlett keeps him in line ( which is a full time job! ) and helps me with discipline.  She is my queen but she is a fair queen…..and he tries his best to charm her.  He LOVES playing with Chrissy!  He loves her and she is really enjoying having a playmate. He is fearless and so agile, I may have to do agility with him!   He went to the vet's office a few days ago for his second shot and everybody there loved him….he charmed them all.  The vet told me what a supper puppy he is, was very pleased with him.  Everybody there came out to see and play with him and he charmed them all.  Thank you for this wonderful boy.


Warmregards,
Mary Curley

"Boyd Ranch horses are versatile, athletic and good natured." "We love our Aussies from the Boyd's! They have great personalities, wonderful temperaments and so willing to please."


Ross and Jennifer Morgan, New Mexico

Dear Boyd Ranch Aussies
We would like to give you an update on our "Best of the Best" Aussies, Sunny, we acquiredfrom you in 2009.
Sunny was the Hit of the Show from the moment I picked him up at the Albuquerque airport. On the plane rides home, the flight crew s constantly wanted me to open his carrier so he could be admired.
Sunny went to his first Puppy class when he was four months old (he had all necessary shots) and was the star of his class. He went to several advanced obedience classes and again was quick and eager to learn and perform. In fact, after his second class, the instructor requested using him as a teaching assistant for her other classes.
Sunny earned his Canine Good Citizen ranking and then we went through Delta Therapy Dog training with me and our daughter as handlers. Of course, Sunny performed above expectations.
We have followed the regimen suggested by you for his feeding with a few exceptions and worked out with our vet a compromise between your suggestions and hers for his shots.
Sunny and I are a certified Therapy Dog team and have become involved with Hospice of Spokane to do visitations for both in-home and Hospice House clients. He enjoys the visits and is a perfect therapy dog, patient, gentle and loving.
In addition, Sunny and I have become involved in a Reading Rovers program where we go weekly to an elementary school and spend ½ hours each with three students that have special reading needs. Sunny and I sit with the students and I assist them in reading books while Sunny is there to be petted, hugged or just as a comfort.
Were more of my time available, I would have enjoyed working with Sunny in Agility activities but I am working on becoming certified in the HOPE Animal-Assisted Crisis Response program.
I know this is long winded but I am so proud of Sunny and thought you would enjoy knowing his progress and status.
I am attaching some pictures of Sunny through the time we have had him as well as some of the Certificates for his training and Certifications.
There is no better breeder of Aussies then Boyd Ranch and we thank you for such a wonderful companion and partner.


Don & Linda Moore           
Spokane, WA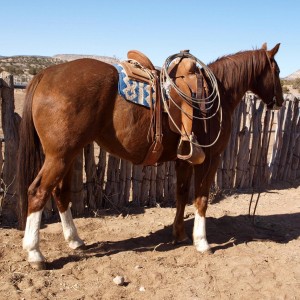 Curt and Susan,
I just wanted to touch base with you. The girls seem like they had a good time, and were pleased, and impressed with the way you treated them. I appreciate that. I am sure down the road, we will be in touch, and I will be watching what you get in stock.
The horses are just getting used to be down here, so I am sure it will take them a few days to get adjusted. Socks is a big dude, but seems like he knows his job, which is a good thing,because I am not sure I know what the job is 

Sara was very impressed with you,  which means a lot. She has seen, and done  a lot of things, and has NO patience for BS.  I would take that as high praise, because she does not say it very often.
I finally saw a light go off in my daughter, which was what I was hoping for. She is so excited, which makes me the same way.. Sounds like the paint was a good choice all the way around.
I mainly wanted to say Thanks, and I am sure we will see you again..


Lee Christmas, New Mexico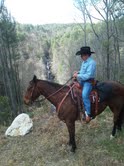 Hi Curt and Susan,
Really like Ringo never rode a horse like him before. Today we rode in a indoor arena with people ropin, cutting and just riding around could not ask for a better horse.
With all that was going on I got off and left him for about 15 min. just stood there did not move. We are still learning each other. Like him alot had a lot of people ask about him and where I got him will send some business your way if I can. Hope you had a nice Xmas With all the weather you have had I guess I left just in time. 
Thanks,


Gene, North Carolina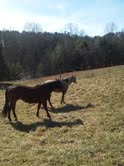 Hi Folks, Just to let you know Ringo has found his last home. He will last me the rest of my riding time. He will be very well taken care of as I look after my animals.You have a good New Year.
Thanks,


Gene, North Carolina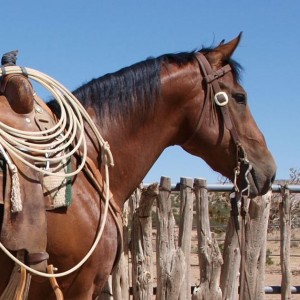 Hi Curt & Susan,
Just wanted to let you know that Dodger, whom we now call Max, is doing very well. He's a wonderful horse. I really like him. John hasn't met him yet—not until late September or October. Friends tease that John will not have a horse when he gets here, for I like Max so much! He trailered home well and has settled in with my gelding, who is boss. I've been riding him out and about and there's nothing he won't do.  Last Saturday 4 of us, including Glen, went to JT's Corral near the Cliff Dwellings and went out for a 6 hour (round trip) trail ride to the Jordan Hot Springs. Max was a champ. This was his opportunity to get comfortable crossing water, for we crossed the middle fork of the Gila River 30 times that day. By the 5th crossing he relaxed and it was like old hat to him. He never balked, just looked at it strangely and followed the other horses across. Then he was wanting to lead, and he did that well, too. The only thing he looked cross-wise at was an old fallen tree stump with daggers of branches on it.
He still volunteers, showing up at the gate….I wish to thank you. That was a marvelous day meeting you two and seeing your operation. Both Glen and I rave about it to friends, the very ones that rave about how nice a horse Max is!Be well,  have a good summer and may you sell as many horses as you desire. May the monsoons grace us all with lots of gentle rains.
Louise Dr. Louise Cash Chiropractic for Horses & Humans POB 335Mimbres, NM  88049575-536-3004 www.redhathealing.com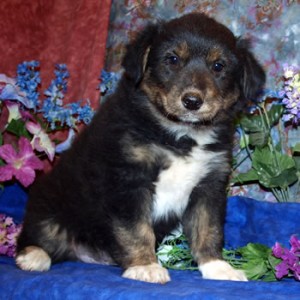 Curt and Susan,
Woohoo….He is gonna be a cowdog! Not that I am surprised. The first time I had him around cattle he went right to 'em growling and barking. He is one smart Pup and will already follow me horseback.


Roger Santa Fe, New Mexico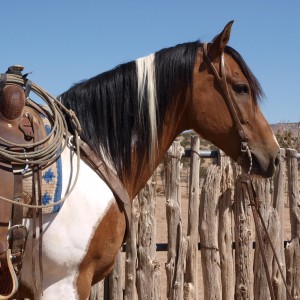 Hi Mr and Mrs Boyd,
Just wanted to tell you that the horses are doing fantastic! We've been riding them like crazy:) Thanks again for the horses!


Michaela and Phillip, New Mexico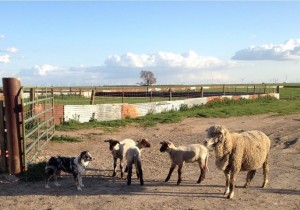 Susan,
We have an amazing ranch dog and companion from Sadie and Bronc. She is healthy and so smart. Being our first Australian Shepherd I was and still am so impressed at Gema's (aka Broadway's) intelligent. Now she is herding sheep and quickly learning more on the ranch everyday. During her off time she snuggles with me and is learning to run along side during my jogs. We are definitely hooked on Australian Shepherds and who knows maybe another Boyd Ranch Aussie will join the family in the future. Thanks Susan, We love our Aussie.


Spencer, California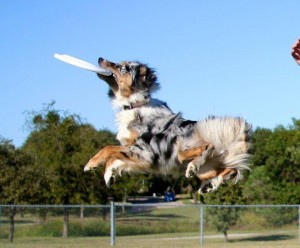 Susan,
just wanted to write to you & say thank you for selling us Trendy. She is really an amazingdog & I am not just saying that because she is ours. She is exceptionally quick —- Fast. Freestyle she learns so quick. Frisbee she is just a natural at that. Flyball racing she is becoming outstanding. She has drive that is out of this world & she is very competitive when racing. She has done many performances & she stands out from the other dogs in the group. She is being called the best among them & she is the youngest among them. She does not want to leave Jodi 's or my side; a true companion. I wanted to let you know what she was like knowing she was related to spur. This little dog has changed or lives & we are so thankful to you for that.


See ya
Jon, Texas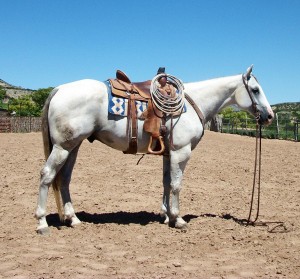 Curt and Susan,
 
We would like to Thank You again for your generous hospitality. Bill and I were welcomed into your home and you made us feel if we were apart of your family. Thank You again for the wonderful horse!


Bill, Suzy, and Woody, Colorado
BOYD RANCH AUSSIE AND BOYD RANCH HORSE! NOTHING BETTER!!!!


STACIE C. ATLANTA, GEORGIA